Leadleds 8.4 x 5.8 Ft Outdoor Video Screen Exterior Led Display Programmable Ad Message Board
Large Outdoor LED Display Signs Advertising Message Boards by Phone/LAN Control your Custom Message, Single Side
Benefits From the Full-Color Programmable Outdoor Led Electronic Signs, the Primary Function of the Outdoor Led Screen is by Phone/LAN Control your Custom Message, Outdoor Led Message Board for Sale, Easy to Use, Display Your Video, Picture, Text, Timer, Vivid Display. The Outdoor Led Display is easy to be captured at the Facades of Shopping malls, Top of Buiding, Major highways, or Even Bus stations. Excellent Visibility, Get More Attention from Flows of Crowd.
Available Synchronous or asynchronous display:
Asynchronous display led board: With an off-line running function, you can stock your messages to the led screen, when playing your message, it never needs to connect other devices, just power on and program, and it's showing your message with impressive effect 

Synchronous display led board: Play live video. Keep the outdoor led screens and your device on the same local network.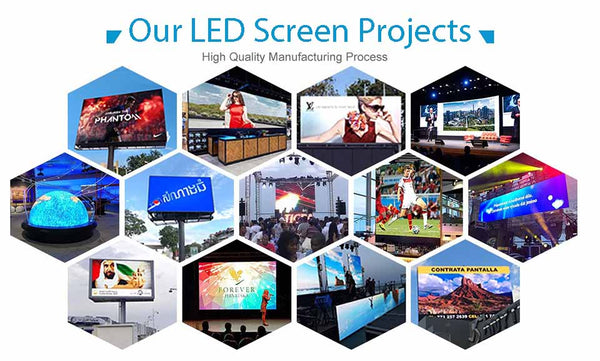 Brand Name: Leadleds
Pixels: 10mm
Usage: Outdoor waterproof
size: Length 8.4 * Height 5.8 Ft. (Length 2.56 x Height 1.76Meters)
1. Pixel pitch: 10mm 
2. Density of pixel: 10000dots/m2
3. Display Color: Full color for video play or tricolor for text display
4. Product Size: Length 8.4* Height 5.8 Ft. (Length 2.56 x Height 1.76M)
5. Display Size: Length 8.4 * Height 5.8Ft. (Length 2.56 x Height 1.76 M)
6. Communication: Wireless or LAN
7. Horizontal/Vertical viewing angle: 120 degree/60 degree
8. Working temperature: -30°C ~+55°C
9. Operating ambient humidity: 10%-95%RH

--> User-friendly, the fast program by LAN or WiFi or HDMI
--> Capable display Multi-Languages, Texts, Numbers, Symbols, Real-Time, Countdown, Vectorgraph or full-color picture, video 
--> Adjustable brightness, speed, font size 
--> Preeminent effects, remarkable moving actions include continuity moving, jump, snow, swing, static playing and etc 
--> Widely in use: commercial advertising LED display screen, service propaganda in finances, offices, hospitals, shops, and stores. 


[What you'll receive]: 
Led Advertising Exterior Led Display
Heavy-duty brackets 
Network cable 
Software and manual 

Order ready time: 15-18 business days
About Shipping: Pack with security reinforced package, It ships by express-to-door delivery, shipping takes 5-7 working days to arrive at your doorsteps!

How can I get free shipping?
For small items such as some of led bulbs, led lights, we offer free shipping. If big items, free shipping is available if you order qualify quantity, please refer the checkout page.
When will my order be shipped?
Typically, within 1-3 business days can be shipped. Some customized items take a bit long within 5-7 business days can be shipped, for giant led screens, please refer to page notes.
Where will my order ship from?
Some items can be shipped from local warehouses in the United States and Europe, you can receive your orders quickly, some items will be shipped from the factory where in China. If the location has no stock, your order will be fulfilled by other warehouses automatically.
Do you ship internationally?
Yes, we do. Insert your full address at checkout and shipping rates will be applied to your order, the total amount includes product and shipping.
 
How long will it take for my order to arrive?
We offer post delivery, express, air or by sea.
By post delivery time is within 1 to 2 weeks, many times even less. For remote places, the shipping time will be longer, you can track the shipment on the courier official site.
For giant led billboards, the default delivery is by express service 3-10 days delivery, the exact delivery date according to tracking information of express company.
If you like by sea to transportation, you can communicate with us before you place the order.


What shipping carriers do you use?
For smaller parcels we use postal service or express delivery depends on which shipping way you choose. For larger packages will ship by express or by sea.

The cooperative transportation companies are:
USPS, La Poste, Bpost, Singapore Post, Russian Post, etc 
FedEx, DHL, UPS, TNT, SF express, etc
MSK, COSCO, EMC, APL, HMM, etc.
How can I track my order?
Once we fulfilled your order, you will receive an email notification with a tracking number. You will be able to track it immediately.
 *Some LED signs are custom-made items, if we communicate by email, we'll produce and ship the items according to your confirmation.