Leadleds Commercial Sign Digital Signage Display Board Full Color Video LED Board
Leadleds Commercial Sign is an outdoor LED digital signage display board with full-color video capabilities. It features a high-definition HD RGB LED screen to ensure a vibrant and crisp display with easy programming via phone or local area network. Enjoy professional-grade visuals and quality in your digital signage.

Brand Name: Leadleds
Display Function: Videos/pictures/text/time/slide show, etc. Full-color asynchronous control
Usage: outdoor, window, semi-outdoor
Tube Chip Color: Full-Color Marquee Sign Led Video bulletin board
Pixels: 5mm
Display Area size: Width 75.6" × Height 56.7"
External enclosure dimensions: Width 75.6" × Height 56.7"
Showing actives: static/moving/scrolling/running etc
Comms by: LAN or WiFi
Input Voltage: 100-120V or 200-240V depending on using country where you ask for shipping to
Usage: advertising publish, retail store, shopping mall, display of dishes, welcome display, self-service business, exhibition hall, wayfinding, airport, subway, elevator, Restaurant & Hotel Supplies, education, medical treatment

* Frame size: Width 75.6" × Height 56.7"
* Pixel Pitch: 5mm
* Waterproof: yes
* Best Viewing Distance: 5 ~ 260 ft. 
* Viewing Angle: 178 deg
* Working Temperature: ﹣22℉~122℉
* Operating ambient humidity: 10% ~ 95%RH
* Communication way: LAN or WiFi
* Operating system: Windows98/Me/2000/Xp/7/8/10, compatibility Android or iOS Phone
* Support video playback, full-color scrolling picture, text display, time, Dynamic clock
* Language support - Alphanumeric (Roman-English) etc World Languages
* OFF-line display, display your messages don't need to connect to other devices, just power on and play,
Available to play your ads at your scheduled time.
*By your phone to remotely send your messages to the LED display, get the app from the Play Store or App Store to your phone. Use the LED sign's dedicated Wi-Fi, No internet is needed when programming and sending your messages, no monthly fees.

* Support most format images or videos.

IMAGE
Category
File Format
Support Image Size
JPEG
JPEG, JPG
48 x 48 pixels ~ 8176 x 8176 pixels
BMP
BMP
No Restriction
GIF
GIF
No Restriction
PNG
PNG
No Restriction
WEBP
WEBP
No Restriction
Video
Category
File Format
Supported Resolution
MPEG-4
MP4, AVI, MKV, MOV,3GP
48 x 48 pixels ~ 1920 x 1080 pixels
MPEG-1/2
DAT,MPG, VOB, TS
48 x 48 pixels ~ 1920 x 1080 pixels
H.264/AVC
AVI, MKV, MP4, MOV, 3GP, TS, FLV
48 x 48 pixels ~ 1920 x 1080 pixels
MVC
MKV,TS
48 x 48 pixels ~ 1920 x 1080 pixels
H.265/HEVC
MKV, MP4,MOV, TS
64 x 64 pixels ~ 1920 x 1080 pixels
GOOGLE VP8
WEBM, MKV
48 x 48 pixels ~ 1920 x 1080 pixels
H.263
3GP, MOV, MP4
SQCIF(128x96), QCIF(176x144), CIF(352x288), 4CIF(704x576)
VC-1
WMV, ASF, TS, MKV, AVI
48 x 48 pixels ~ 1920 x 1080 pixels
MOTION JPEG
AVI
48 x 48 pixels ~ 1920 x 1080 pixels

The package included:
1x LED panel video wall
1x Network cable
1x Software and manual Security wooden packing
* This outdoor-led video screen process time 15~18 business days
* Shipping by DHL/FEDEX express, shipping takes 7-10 business days to your doorsteps.

* Professional team designs the outdoor LED screen structure according to the mounting way.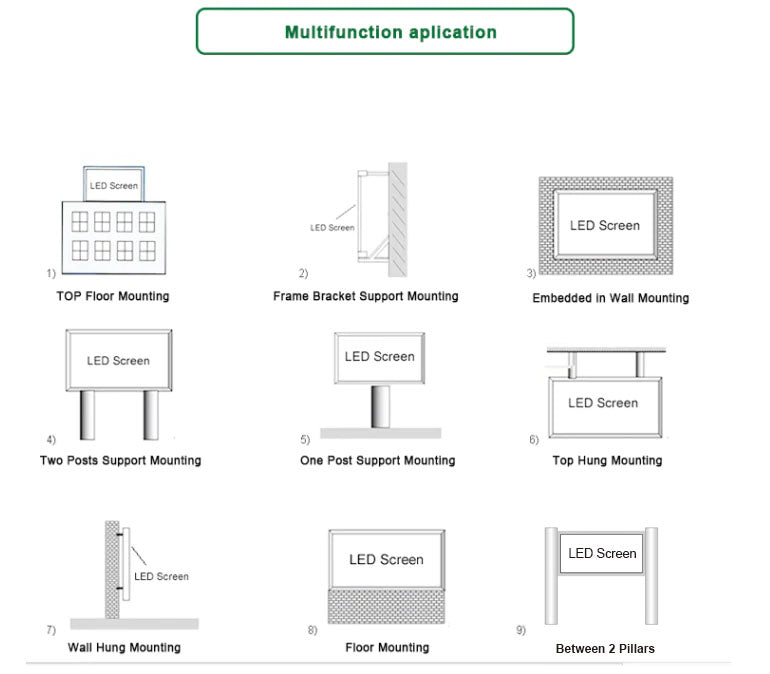 How can I get free shipping?
For small items such as some of led bulbs, led lights, we offer free shipping. If big items, free shipping is available if you order qualify quantity, please refer the checkout page.
When will my order be shipped?
Typically, within 1-3 business days can be shipped. Some customized items take a bit long within 5-7 business days can be shipped, for giant led screens, please refer to page notes.
Where will my order ship from?
Some items can be shipped from local warehouses in the United States and Europe, you can receive your orders quickly, some items will be shipped from the factory where in China. If the location has no stock, your order will be fulfilled by other warehouses automatically.
Do you ship internationally?
Yes, we do. Insert your full address at checkout and shipping rates will be applied to your order, the total amount includes product and shipping.
 
How long will it take for my order to arrive?
We offer post delivery, express, air or by sea.
By post delivery time is within 1 to 2 weeks, many times even less. For remote places, the shipping time will be longer, you can track the shipment on the courier official site.
For giant led billboards, the default delivery is by express service 3-10 days delivery, the exact delivery date according to tracking information of express company.
If you like by sea to transportation, you can communicate with us before you place the order.


What shipping carriers do you use?
For smaller parcels we use postal service or express delivery depends on which shipping way you choose. For larger packages will ship by express or by sea.

The cooperative transportation companies are:
USPS, La Poste, Bpost, Singapore Post, Russian Post, etc 
FedEx, DHL, UPS, TNT, SF express, etc
MSK, COSCO, EMC, APL, HMM, etc.
How can I track my order?
Once we fulfilled your order, you will receive an email notification with a tracking number. You will be able to track it immediately.
 *Some LED signs are custom-made items, if we communicate by email, we'll produce and ship the items according to your confirmation.