Leadleds Bluetooth Car Sign Scrolling Multi Color Message Board, 42 x 8.5cm
customers are viewing this product
Happy Leadleds LED Sign, Glorify Your Personal Message in the attract way!

Program Your Custom Message by phone through Bluetooth, compatible Android phone, and iOS.
Feature:

* 8 levels of speed and brightness control/adjustable(UP/DOWN)
* Total program 8 messages, each has 80 characters
* Rainbow messages or single messages are available
* Easy to Install with double-faced adhesive tape 
* Sign viewing angle can 360°revolve
* Powered from a 12V car cigarette lighter via a long 4 meters cordially, also can be equipped with 12/24 V -DC 3A AC Adapter,So 100-240V can also be used
* Great for business advertising, restaurant, events, parties, cars, taxis, Uber, Lyft...

Spec.:
Dimensions: 16.5"W x 3.5"H x 2.5"D. (8.5(H)×42(L)×5.5(D)cm)
12x72 dots resolution Full color
Enclosure: ABS Black color, non water-proof
Display Color: Full Color
Support Multilingual in (Chinese/English/Russian/French/Spanish/Italian/Japanese/Korean/Arab/Thai/ India...) 
Power: DC12V car cigar lighter via a long 4 meters cord(included)
--> Bluetooth control allows easy programming characters, accents, numbers, and symbols
--> Rotate viewing screen up to 360°to increase visibility and customer impact,Its text special effect: you can set the text mirror display, you can rotate text 90 degrees or 180 degrees, 270 degrees
--> 8 Different moving modes (Left, Right, Hold, Snow, Up, Down, Flash, Marque).
--> Mount on windows or other smooth surfaces (self-adhesive pads included)


Package includes:
Use for car:
1 x Bluetooth LED scrolling message sign with DC12V cigar lighter
2 x Double-faced adhesive tapes
1 x Instruction.
Use for socket:
1 x Bluetooth LED scrolling message sign with DC12V cigar lighter
1 x DC12V Convert 100-240v ac Kit
2 x Double-faced adhesive tapes
1 x Instruction.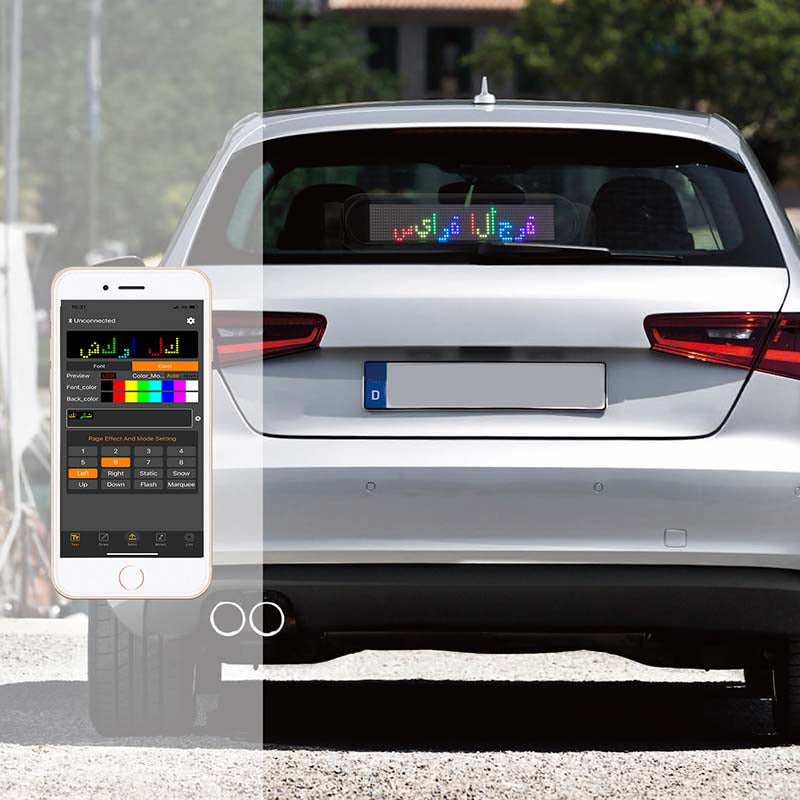 SHIPPING
How can I get free shipping?
For small items such as some of led bulbs, led lights, we offer free shipping. If big items, free shipping is available if you order qualify quantity, please refer the checkout page.
When will my order be shipped?
Typically, within 1-3 business days can be shipped. Some custom items take a bit long within 5-7 business days can be shipped.
Where will my order ship from?
Some items can be shipped from local warehouses in United States and Europe, you can receive your orders quickly, some items will be shipped from factory where in China.
Do you ship internationally?
Yes we do. Insert your full address at checkout and international shipping rates will be applied to your order. We offer most items are free shipping.
How long will it take for my order to arrive?
Within 1 to 2 weeks. Many times even less. By express expedited service is available.
What shipping carriers do you use?
For smaller packages we will use Postal Service. For larger packages we use express like FedEx/TNT/DHL fast delivery to your doorsteps.
How can I track my order?
Once we fulfilled your order, you will receive an email notification with a tracking number. You will be able to track it immediately.