Leadleds Outdoor Led Cube Display HD Video Advertising Panel Fullcolor Waterproof
Between the surface and the surface to achieve a seamless perfect connection! Using advanced design technology, combined with the actual installation site environment, to create a creative led display of new products, the screen is the most attractive is the unique shape, gets rid of the traditional flat screen sense, and gives people a new visual sense of three-dimensional.
* Off-line display, no need to connect any other devices when playing your video
* Messages memory function, the led display signs never loses unless you send new messages to the led cube screen.
Brand Name: Leadleds
Display Function: Video/Text/Animation/Symbol/time
Usage: Indoor, semi-outdoor, outdoor
Showing method: static/moving/scrolling/running etc
Packaging Details: Foam+carton+wooden frame, security package 


HD Cube Led Video Sign Full Color Display
The bright LED signboard in a full-color display will get more people to read your messages. You can customizable any messages on the bright screen. For example, your store is on 30% off on some items today, or maybe you want to let your customers know you have a new type of ice cream.

Animation video vivid display, the text display movement with neon, flashing, blinking, static, rotating, moving to the left or to the right actions. The package comes with the installation accessories and AC power, for your marketing promotion, what's even more amazing is that you get to customize the messages on the screen just by using your mobile phone! It works with both iOS and Android devices, sending your messages with attractive video/picture/PowerPoint/graphic/text. It's practical, convenient, and everything in between.

Say goodbye to the printed signage, use this programmable full-color led screen to attract more people's attention.

Application places:
Storefront, Museum, Planetarium, Exhibition, Sports Stadium, Airport, Hotel, Railway Station, Shopping Mall, Bar. etc.

Installation of the led screen:
Support hanging installation, stand-on-ground or mobile use, etc

Specification:

 
ITEMS
Led Cube Display Programmable
Dimension
Whole display outline size 
19.7 x 19.7 x 19.7-in (500 x 500 x 500 mm)
Display screen size

19.7 x 19.7 x 19.7-in (500 x 500 x 500 mm)

Each Side Resolution
128 pixels(Width) × 128 pixels(Height) 
Pixel Information
Pixel Pitch
3.91mm HD display
Pixel density
65025 pixels/square meter
Pixel configuration
RGB SMD 3IN1
Viewing
Color scale
256-65536grade/16777216colors
Brightness
4000-5000CD/sqm

View angle(H/V)
140/140 degrees
View Distance
3-50 meters

Brightness Uniformity
Luminance Discrepancy < 5%
Slot Between Neighboring Modules
< 1mm
Power
Input Voltage
100-120V or 200-240V
Max Power Consumption
750 Watt/sq.m
Avg. Power Consumption
300 Watt/sq.m
Processing
Accepting signal
Image/video/text/clock/animation, etc.
Supported Networking
Through WiFi/LAN
Controller
Phone or PC
Operating system
iOS/Android devices or Windows98/Me/2000/XP/10
Ambient Conditions
Operating humidity
10%—95%RH
Operating temperature
—22℉~+122℉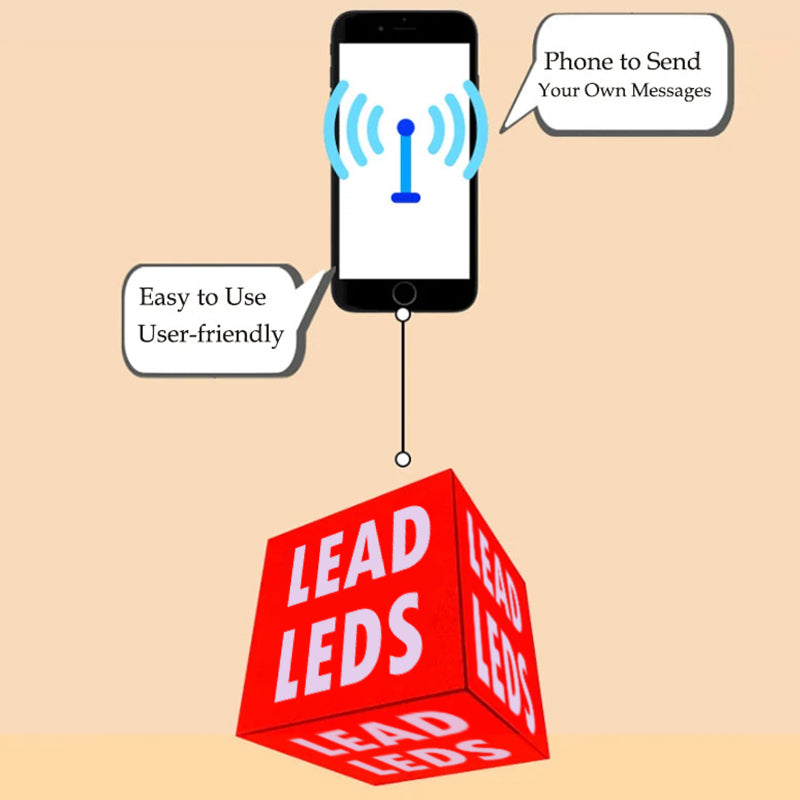 The package included the following:
HD Led Cube Display Board 
Mounting brackets
Led sign software and manual Security wooden packing
* This led sign board process time of 8 business days
* Shipping by DHL/FEDEX/UPS express, shipping takes 5-10 business days to your doorsteps. 
How can I get free shipping?
For small items such as some of led bulbs, led lights, we offer free shipping. If big items, free shipping is available if you order qualify quantity, please refer the checkout page.
When will my order be shipped?
Typically, within 1-3 business days can be shipped. Some customized items take a bit long within 5-7 business days can be shipped, for giant led screens, please refer to page notes.
Where will my order ship from?
Some items can be shipped from local warehouses in the United States and Europe, you can receive your orders quickly, some items will be shipped from the factory where in China. If the location has no stock, your order will be fulfilled by other warehouses automatically.
Do you ship internationally?
Yes, we do. Insert your full address at checkout and shipping rates will be applied to your order, the total amount includes product and shipping.
 
How long will it take for my order to arrive?
We offer post delivery, express, air or by sea.
By post delivery time is within 1 to 2 weeks, many times even less. For remote places, the shipping time will be longer, you can track the shipment on the courier official site.
For giant led billboards, the default delivery is by express service 3-10 days delivery, the exact delivery date according to tracking information of express company.
If you like by sea to transportation, you can communicate with us before you place the order.


What shipping carriers do you use?
For smaller parcels we use postal service or express delivery depends on which shipping way you choose. For larger packages will ship by express or by sea.

The cooperative transportation companies are:
USPS, La Poste, Bpost, Singapore Post, Russian Post, etc 
FedEx, DHL, UPS, TNT, SF express, etc
MSK, COSCO, EMC, APL, HMM, etc.
How can I track my order?
Once we fulfilled your order, you will receive an email notification with a tracking number. You will be able to track it immediately.
 *Some LED signs are custom-made items, if we communicate by email, we'll produce and ship the items according to your confirmation.