Leadleds Scrolling Led Sign Full Color High Resolution SMD Message Display Board, 60.5 x 60.5in
Programmable Stage LED signs, great for indoor assemblies, congregations, and presentations! Blow your competitors out of the water, or keep your congregation and audience glued to your message.
Leadleds is a trusted and reputed provider of premium quality indoor led signs supplier, the 147456 dots display is clear, offers live stream, video playback, picture, animation, connects over LAN, WiFi, or HDMI, display brilliant clarity. 
* New technology SMD Led makes perfect, led display with advantages such as high contrast ratio, non-reflection, vivid color, etc., let the led screen in the perfect performance
* WiFi, TCP/IP control, support play live stream or upload messages
* High grayscale full-color vivid display
* Wide Viewing Angles.
Specification:
Frame size: L 60.5 x H 60.5in (L 1536 x H 1536mm)
Pixel Pitch: 4mm
3-in1 led lights, 147456 dots HD clear and vivid display your messages
Best View Distance: 1-50 meters
Viewing Angle(H/V): 160/160
Input Voltage(AC): 110/240V
Excellent heat dissipation and noiselessness

High-performance metal plate cabinet design
Macro molecular flexible mask with the glare-less surface on LED modules.

Delivery Time:
1. Delivery time: Accomplish manufacturing within 2~3 weeks
2. Before delivery, we will test the display, keep it light up for 72 hours, and check all the display parts to confirm it is Ok for delivery.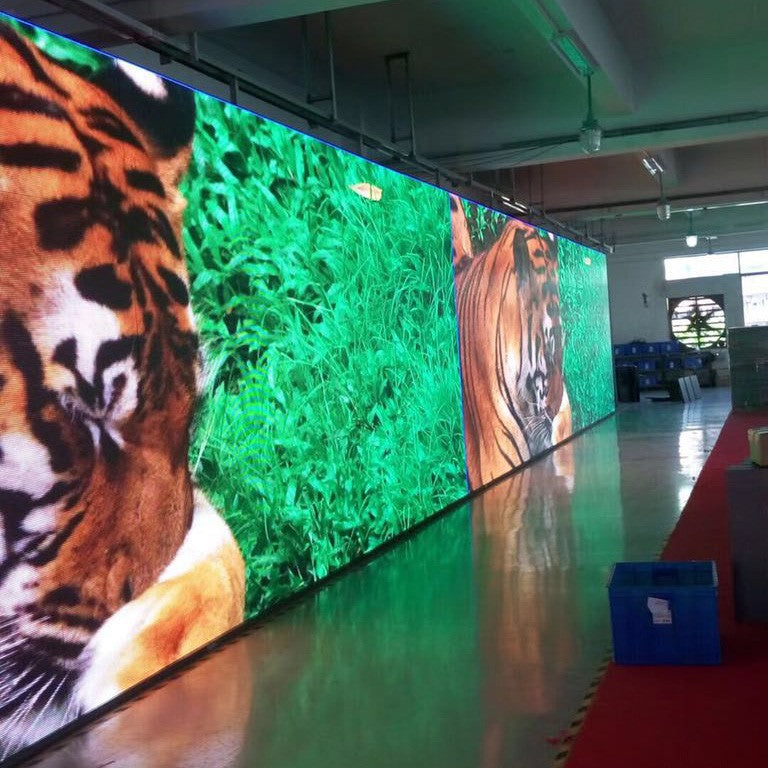 Programmable LED signs can bring more customers to any business as it is an instant attention-grabber. Business owners should take advantage of this increased traffic and put creative and dynamic ads that will turn it into huge profits.
>>>>>Why Choose Leadleds
▲Deep Customized & OEM
▲Listen to you, think more for you.
▲The clear cost initially to save your time and money.
▲Provide innovative and satisfying products
▲Excellent product quality, quick and professional services
▲Always ready for any change on LED display details.
▲Recommend the best proper solution for your LED project.
▲Catch things that you missed before LED display production.
▲Take good care of each detail for your products, packages, shipping
How can I get free shipping?
For small items such as some of led bulbs, led lights, we offer free shipping. If big items, free shipping is available if you order qualify quantity, please refer the checkout page.
When will my order be shipped?
Typically, within 1-3 business days can be shipped. Some customized items take a bit long within 5-7 business days can be shipped, for giant led screens, please refer to page notes.
Where will my order ship from?
Some items can be shipped from local warehouses in the United States and Europe, you can receive your orders quickly, some items will be shipped from the factory where in China. If the location has no stock, your order will be fulfilled by other warehouses automatically.
Do you ship internationally?
Yes, we do. Insert your full address at checkout and shipping rates will be applied to your order, the total amount includes product and shipping.
 
How long will it take for my order to arrive?
We offer post delivery, express, air or by sea.
By post delivery time is within 1 to 2 weeks, many times even less. For remote places, the shipping time will be longer, you can track the shipment on the courier official site.
For giant led billboards, the default delivery is by express service 3-10 days delivery, the exact delivery date according to tracking information of express company.
If you like by sea to transportation, you can communicate with us before you place the order.


What shipping carriers do you use?
For smaller parcels we use postal service or express delivery depends on which shipping way you choose. For larger packages will ship by express or by sea.

The cooperative transportation companies are:
USPS, La Poste, Bpost, Singapore Post, Russian Post, etc 
FedEx, DHL, UPS, TNT, SF express, etc
MSK, COSCO, EMC, APL, HMM, etc.
How can I track my order?
Once we fulfilled your order, you will receive an email notification with a tracking number. You will be able to track it immediately.
 *Some LED signs are custom-made items, if we communicate by email, we'll produce and ship the items according to your confirmation.