Leadleds Outdoor LED Display Screen Double Sided Waterproof Business Sign, 9.5 x 4.2 Ft
Are you looking for a double-sided led video signboard or single-sided full color led screen for your business, advertising, promotional campaigns, and notice?
This business-led board custom sign for you express any information, vivid color display, attractive highly impressive.
* High brightness: Outdoor HD led screen display brightness to achieve 6000CD per square meter
* Good light color consistency
* Super-reliable waterproof
* Higher level of protection, dust, waterproof, fire protection.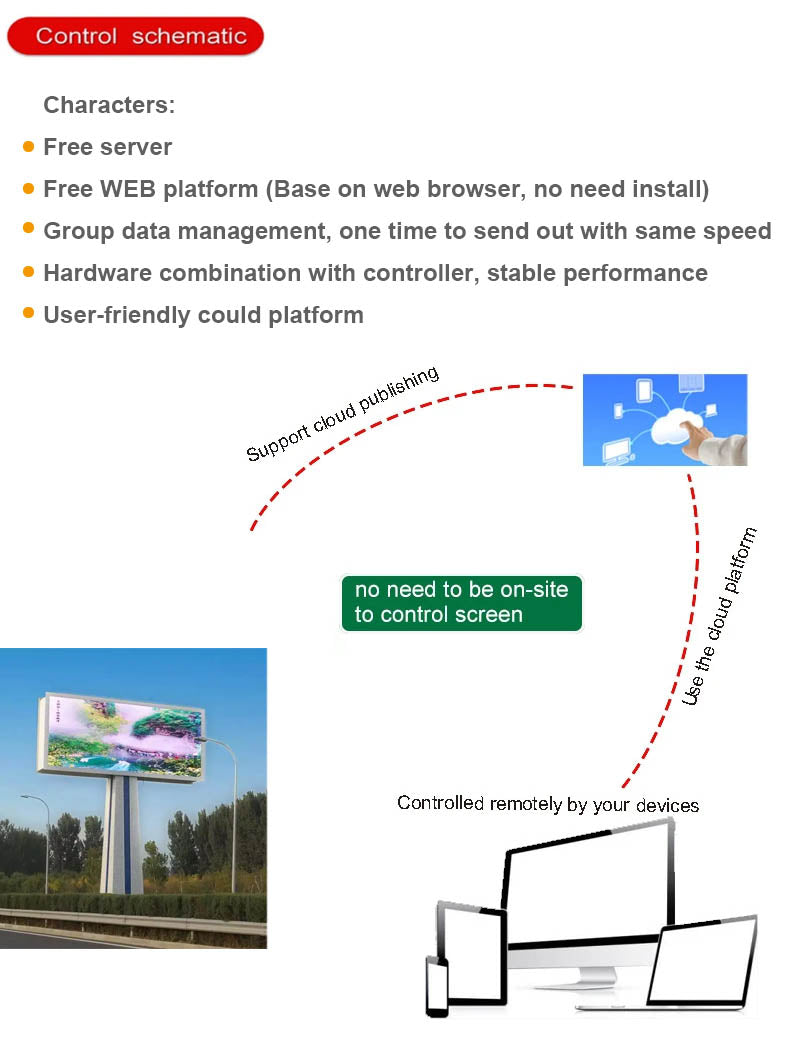 Outdoor Full Color LED Display Parameter

Usage

Commercial Advertising/ Promotional Campaigns/Notice

Display Ability

Text Multi-language/Symbol/Number/Graphic

/Video/Picture/Animation/Clock/Timing/Countdown

Control Type

WiFi /LAN /Cloud

Input voltage

AC 220v /110v ±10%50~60Hz

Screen Dimension

9.5 x 4.2 Ft (2.88 x 1.28 meters)

(1)Parameter of Pixel

Number

Item

Parameter

1

Pixel Pitch

10mm

2

Pixel composition

SMD,3in1 RGB


(2)Parameter of Chip

Number

Item

Wavelength

Brightness

Specification

1

Red Chip

621-625nm

550-688mcd

 SMD 3535 Lamp

2

Green Chip

520-524nm

1050-1312mcd

3

Blue Chip

466-470nm

160-200mcd

(3)Display Technical Parameters

  Lamp

LED Specification

SMD 3535

Module

 

Module Size

W320mm*H160mm

Module Resolution

W32 Dots*H16 Dots

Scanning Mode

Constant driving,1/4scan

Working Voltage

DC 5V

Module Power

35W

Cabinet 

Cabinet Material

Iron/ Aluminum

Ingress Protection

IP65

4

LED Driver

Constant Current

5

Pixel/M2 

10000 Dots/ M2   

7

Display Brightness

≥6000cd/ M2

8

Viewing Angle

Horizontal 160° Vertical 120° 

9

Best Viewing Distance

≥10m

10

Grey Level

Red, Green, Blue every 256 Levels of Grey

11

Display Color

16.7M

12

Color Quality

32 Bits
Delivery Time:
1. Delivery time: Accomplish manufacturing within 2~3 weeks

2. Before delivery, we will test the display, keep it light up for 72 hours, and check all the display parts to confirm it is Ok for delivery.
How can I get free shipping?
For small items such as some of led bulbs, led lights, we offer free shipping. If big items, free shipping is available if you order qualify quantity, please refer the checkout page.
When will my order be shipped?
Typically, within 1-3 business days can be shipped. Some customized items take a bit long within 5-7 business days can be shipped, for giant led screens, please refer to page notes.
Where will my order ship from?
Some items can be shipped from local warehouses in the United States and Europe, you can receive your orders quickly, some items will be shipped from the factory where in China. If the location has no stock, your order will be fulfilled by other warehouses automatically.
Do you ship internationally?
Yes, we do. Insert your full address at checkout and shipping rates will be applied to your order, the total amount includes product and shipping.
 
How long will it take for my order to arrive?
We offer post delivery, express, air or by sea.
By post delivery time is within 1 to 2 weeks, many times even less. For remote places, the shipping time will be longer, you can track the shipment on the courier official site.
For giant led billboards, the default delivery is by express service 3-10 days delivery, the exact delivery date according to tracking information of express company.
If you like by sea to transportation, you can communicate with us before you place the order.


What shipping carriers do you use?
For smaller parcels we use postal service or express delivery depends on which shipping way you choose. For larger packages will ship by express or by sea.

The cooperative transportation companies are:
USPS, La Poste, Bpost, Singapore Post, Russian Post, etc 
FedEx, DHL, UPS, TNT, SF express, etc
MSK, COSCO, EMC, APL, HMM, etc.
How can I track my order?
Once we fulfilled your order, you will receive an email notification with a tracking number. You will be able to track it immediately.
 *Some LED signs are custom-made items, if we communicate by email, we'll produce and ship the items according to your confirmation.