Leadleds led Signage Video Wall Waterproof Outdoor Led Display by Phone Programming, 50 X 76IN
Large Digital Display Smart LED Sign Full Color Video Play
High color uniformity and clear image can bring you a vivid visual effect.
Display Function: Video/Image/Animation/Text/Clock, etc.
Brand Name: Leadleds
Tube Chip Color: Full Color
Usage: Outdoor waterproof
Waterproof: Yes  
This outdoor led panel can be stored messages and play your own messages without connecting to any other devices
By this led sign's dedicated WiFi through your smartphone to program and send messages, no need your WiFi data.
Weatherproof design, completely outdoor use
Good quality material, mature technology, and strict inspection ensures the high quality of LED display
Whole Size: Lenght 76" x Height 50" ( Lenght 192x Height 128cm)
Best Viewing Distance: 10-100m
Viewing Angle: Horizontally >160° / Vertically >130°
Working Temperature: -25°C ~ +50°C
Operating ambient humidity: 10%-95%RH
Communication way: Ethernet, Cloud service, or WiFi through Smart Phone            
Operating system: Windows 98/Me/2000/XP/7/8/10, or iOS and Android Phone

Support video playback, full-color scrolling picture, text display, time, Dynamic clock, Language support - Alphanumeric (Roman-English), etc World Languages
Ingress protection: IP65 One set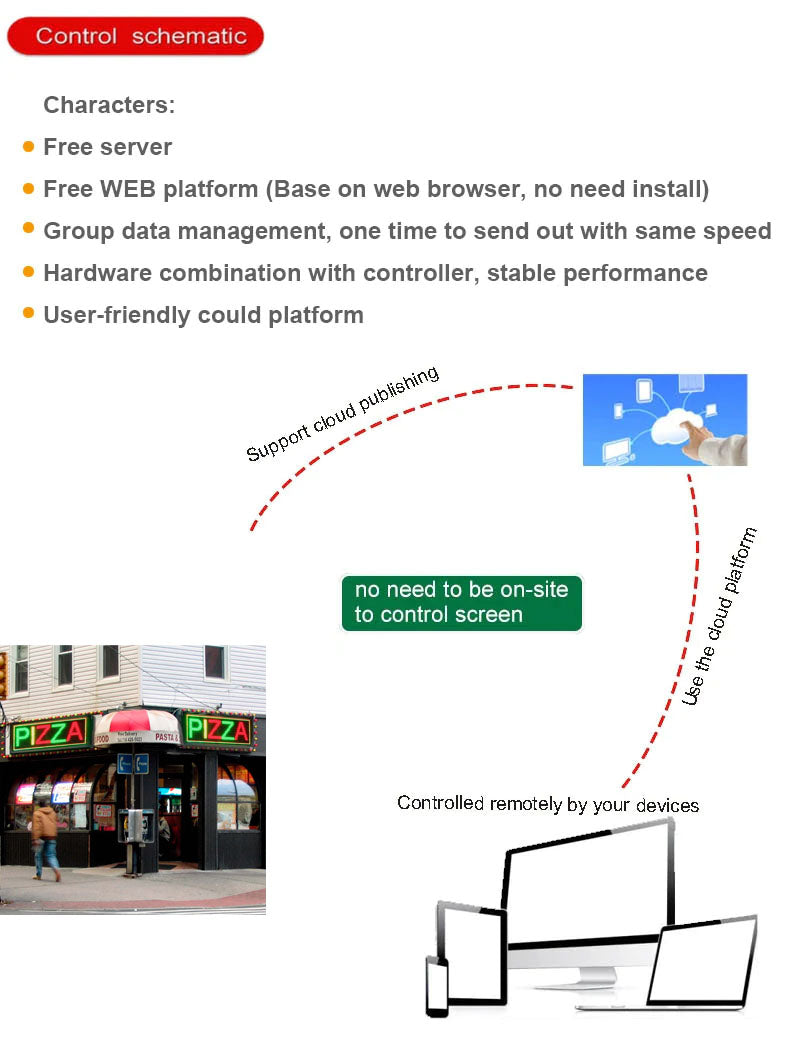 Feature & Function:
The housing color is Black
Heavy-duty cabinets design
The font size of the text message is adjustable
Display function is video, image, text message, and graphics
The Led screen's memory is big and can store lots of different messages, you can upload multiple videos and it shows after each other
Input voltage is AC 110V or 240V
Adjustable Brightness
Energy-efficient schedule messages to display according to your setting.
The product can support all the languages in the world, English, Spanish, Russian, French, Hebrew, and so on.

Outdoor LED screens can be used in a variety of settings, such as shopping centers, airports, sports arenas, and other high-traffic areas. They are often used for advertising, wayfinding, and providing information to the public.

Each Package Included:
Outdoor LED Display Screen
Network Cable
Software and manual
Shipping:

Packing: Shock-proof material and wooden case
It's by FedEx-DHL- UPS the express shipping way delivery to you! 
Estimated Delivery Time: 5-10 days (ships out within 12-18 business days)


How can I get free shipping?
For small items such as some of led bulbs, led lights, we offer free shipping. If big items, free shipping is available if you order qualify quantity, please refer the checkout page.
When will my order be shipped?
Typically, within 1-3 business days can be shipped. Some customized items take a bit long within 5-7 business days can be shipped, for giant led screens, please refer to page notes.
Where will my order ship from?
Some items can be shipped from local warehouses in the United States and Europe, you can receive your orders quickly, some items will be shipped from the factory where in China. If the location has no stock, your order will be fulfilled by other warehouses automatically.
Do you ship internationally?
Yes, we do. Insert your full address at checkout and shipping rates will be applied to your order, the total amount includes product and shipping.
 
How long will it take for my order to arrive?
We offer post delivery, express, air or by sea.
By post delivery time is within 1 to 2 weeks, many times even less. For remote places, the shipping time will be longer, you can track the shipment on the courier official site.
For giant led billboards, the default delivery is by express service 3-10 days delivery, the exact delivery date according to tracking information of express company.
If you like by sea to transportation, you can communicate with us before you place the order.


What shipping carriers do you use?
For smaller parcels we use postal service or express delivery depends on which shipping way you choose. For larger packages will ship by express or by sea.

The cooperative transportation companies are:
USPS, La Poste, Bpost, Singapore Post, Russian Post, etc 
FedEx, DHL, UPS, TNT, SF express, etc
MSK, COSCO, EMC, APL, HMM, etc.
How can I track my order?
Once we fulfilled your order, you will receive an email notification with a tracking number. You will be able to track it immediately.
 *Some LED signs are custom-made items, if we communicate by email, we'll produce and ship the items according to your confirmation.