Leadleds Fiber Optic LED Shoes Light Up Sneakers with USB Charging Flashing Luminous Shoes
customers are viewing this product
Leadleds Fiber Optic LED Shoes Light Up Sneakers for Women Men with USB Charging Flashing Festivals Party Dance Luminous Kids Shoes
Fabric sole 
7 SINGLE COLORS & 4 FLASHING MODELS: This women's man's light-up shoes have 7 different colors: Red Green Blue Yellow Turquoise Purple White, there are also 4 different flash modes for different frequencies to choose. So cool, this LED sneaker can light up your feet and catch all eyes on you.
HIDDEN SWITCH BUTTON: Button inside the strap on the heel. Easy to control the light on and off, at the same time the hidden button will not affect your comfortable wearing experience.
USB CHARGING: The boy's girls LED shoes, USB charging for 2-3 hours will keep the light working for 5-8 hours. (Working period differs by different light-up mode). It can be recharged by a power bank, mobile phones, computer, etc, safe and convenient.
LIGHTWEIGHT AND BREATHABLE MATERIAL: Upper adopts new fiber-optic material, which is more light and soft; Mesh inner material, comfortable and breathable; Non-slip and durable EVA outsole provides good cushioning for your feet when you are walking.
IDEAL GIFT:The unisex fiber optic LED shoes ideal for party/music festival/night club/dance/evening riding/festival etc.It will be a nice present for Birthdays, Halloween, Thanksgiving, Christmas, and Valentine's Day. Choose a pair of shining shoes for your friends, lovers, and kids!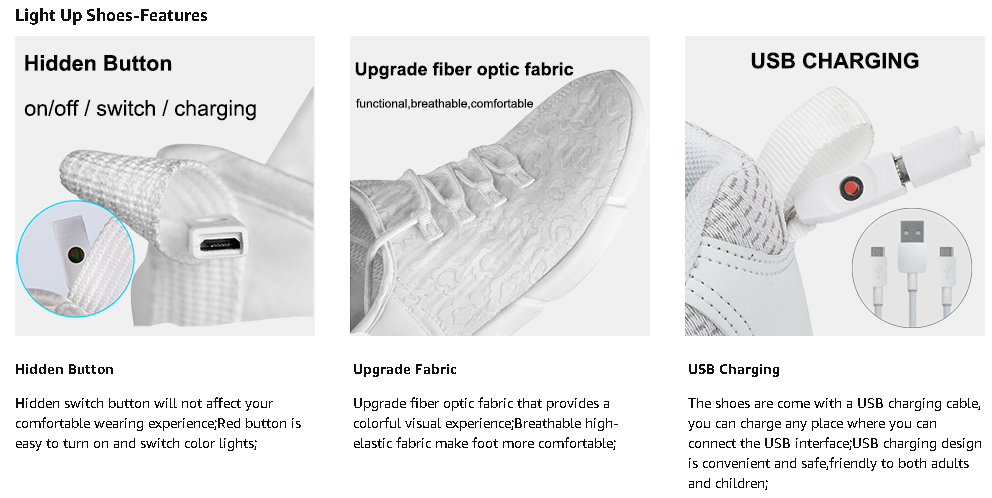 Leadleds  Women Men LED Fiber Optic Shoes Light Up Your Night Life!
1.Upgraded fiber optic fabric that provides a colorful visual experience,show your style in party,music festival,nightclub,dance and other indoor outdoor activities;
2.This is a multifunctional shoes,turn off the light,it is a casual sneaker;Turn on the light,it is a fashion and glow shoe,amazing!you will like them;
3.USB charging design is convenient and safe,friendly to both adults and children;
Clean and Maintenance Instruction:
1.We suggest don't wash often in order to prolong the shoes lifespan.Please wash it by hands. Don't put it in the washing machine.
2.The battery needs to be used up before cleaning, so that you can start cleaning when the power is exhausted!
3.For stained and dirty spots, use a damp sponge or towel to scrub the upper and place the shoes in a well-ventilated place to dry.
Package Included:
1 X Fiber Optic LED shoe
1 X USB Charging Cable
1 X Operation Instruction
Warm tips:
1. If it don't light up properly when you receive the shoes, maybe it just has no power, just plug it in and charge it.
2. We recommend that you use up the power when you use it for the first time, and then fully charge it to ensure your best experience.
3. Please do not immerse it in water.
4. Please stay away from little kids when charging.
SHIPPING
How can I get free shipping?
For small items such as some of led bulbs, led lights, we offer free shipping. If big items, free shipping is available if you order qualify quantity, please refer the checkout page.
When will my order be shipped?
Typically, within 1-3 business days can be shipped. Some custom items take a bit long within 5-7 business days can be shipped.
Where will my order ship from?
Some items can be shipped from local warehouses in United States and Europe, you can receive your orders quickly, some items will be shipped from factory where in China.
Do you ship internationally?
Yes we do. Insert your full address at checkout and international shipping rates will be applied to your order. We offer most items are free shipping.
How long will it take for my order to arrive?
Within 1 to 2 weeks. Many times even less. By express expedited service is available.
What shipping carriers do you use?
For smaller packages we will use Postal Service. For larger packages we use express like FedEx/TNT/DHL fast delivery to your doorsteps.
How can I track my order?
Once we fulfilled your order, you will receive an email notification with a tracking number. You will be able to track it immediately.