Leadleds 70in Outdoor Video Wall Screen HD Display Digital Sign
This outdoor digital board advertising is ideal for use as a community bulletin board, Programmable Full Color LED TV By Smartphone sends messages compatibility with Android and iOS.
It features a wide viewing angle and high brightness, making it ideal for outdoor use.
With its versatile compatibility and easy programming, this outdoor led signage is the perfect choice for your business or organization.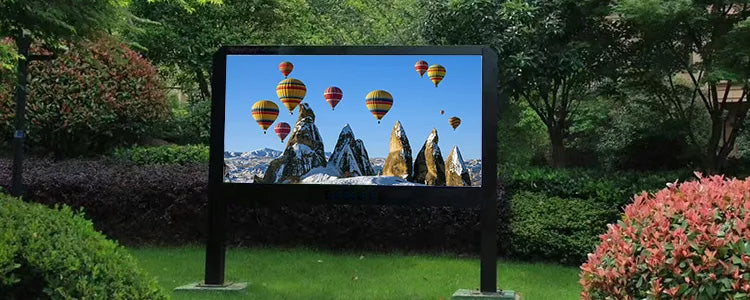 Type: Outdoor programmable led digital sign board
Usage: Outdoor waterproof
Display area size: Width 70.56" x Height 45.4" (1792 x 1152 mm)
External enclosure dimensions: Width 70.56" x Height 45.4" (1792 x 1152 mm)
Pixel Pitch: 4mm
Led Matrix: 448 x 288, 3-in-1 full-color display, total 86016 dots display your messages
Display capability: Video/image/text/neon/graphic/animation/etc
View distance: 1- 100 ft.
Communicate: Phone/LAN/Cloud
Input voltage: 100-120V, 200-240V
Waterproof: Yes

* The digital outdoor sign is Programmable Your Custom Messages by Phone or LAN. The sign offers a convenient and intuitive process for customizing display messages, so you can get the most out of your outdoor advertising.
* Super bright, the led message board has good visibility in the daylight. It's an attention grabber, sure to make your message stand out! Perfect for promotions, advertisements, and notifications.
* Waterproof, over-current protection, over-voltage protection, under-voltage protection, and short-circuit protection.

 
ITEMS
Outdoor digital signage display
 
Type
Double-sided led screen or single-sided digital billboard
Each side Dimension
Display area size

Width 70.56" x Height 45.4" (1792 x 1152 mm)

LED Matrix
448 pixels(Width) × 288 pixels(Height) = 129024 pixels
Pixel Information
Pixel Pitch
4mm
Pixel density
62500 pixels/square meter
Pixel configuration
RGB SMD 3IN1
Viewing
Color scale
256-65536grade
Brightness
5000-6000cd/㎡ 
View angle(H/V)
Horizontal 140° Vertical 140°
Viewing Distance

1- 100 ft.

Power
Input Voltage
AC input
Display
Video Formats
Support AVI, WMV, MP4, 3GP, ASF, MPG, FLV, F4V, MKV, MOV,   DAT, VOB, TRP, TS, WEBM, etc, direct transmission, no trans-coding waiting. 
Animation Formats
SWF, FLV, GIF
Image Formats
BMP, JPG, JPEG, PNG, etc.
Text
Support text message editing, inserting the picture
Time
analog clock, digital clock, and a variety of dial clock functions
Other function
Neon, animations function; Clockwise/counter-clockwise count; brightness adjustment function, etc.
Memory
strong memory function, messages can't lose if power off

Supported Networking
Through Phone/LAN/Cloud 
Operating system
Windows, phone, any browser
Ambient Conditions
Operating humidity
10%—95%RH
Operating temperature
 -22 ºF to 122 ºF (- 30ºC to + 50ºC)
Waterproof
Yes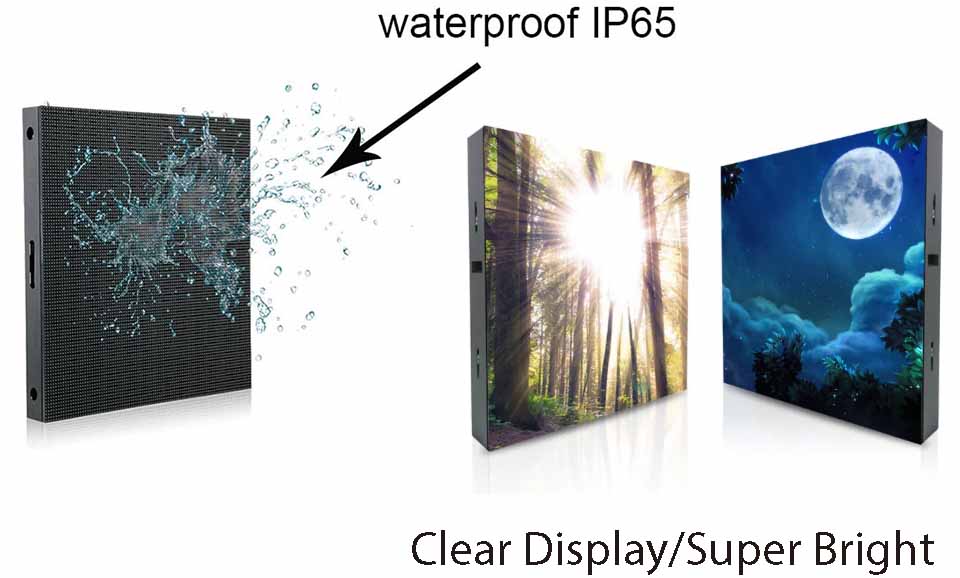 [Features]:
---> Software/app has multiple languages and each language can be switched freely. The user-friendly interface allows you to easily choose from multiple language options, ensuring you can access the information that's important to you.
---> All programs are transmitted by WiFi through your smartphone or LAN No more cords or complicated setup processes, so you can get your device up and running in no time.
---> Supports video, picture, neon, text, number, symbol, graph, clock, timer, etc With a range of supported content types, your display will be suitable for almost any application or message you wish to display. Whether you are using it to advertise products, provide information, or alert visitors to important changes, it will offer a reliable, versatile solution.
---> Text program edit in any language, free adjust Gain elegant control over your projects, with quick and easy adjustments to tailor your messages to your specific needs. Enjoy the freedom of programming without any constraints.
---> More than 20 effects, such as: move to the right, move to left, static and etc
---> With multi-program mode
---> With hierarchical management of programs in menu type so as to keep a clear structure and convenient maintenance The menus can be intuitively personalized and configured to save time when managing programs.
---> High efficient energy-saving, supports programs played at the appointed period. You can preset a schedule and save energy efficiently, so you can rest easy knowing your energy usage is optimized.

[What you'll receive]:
Commercial Digital Signage Display Width 70.56" x Height 45.4"
Communication Cable
Software/App & English manual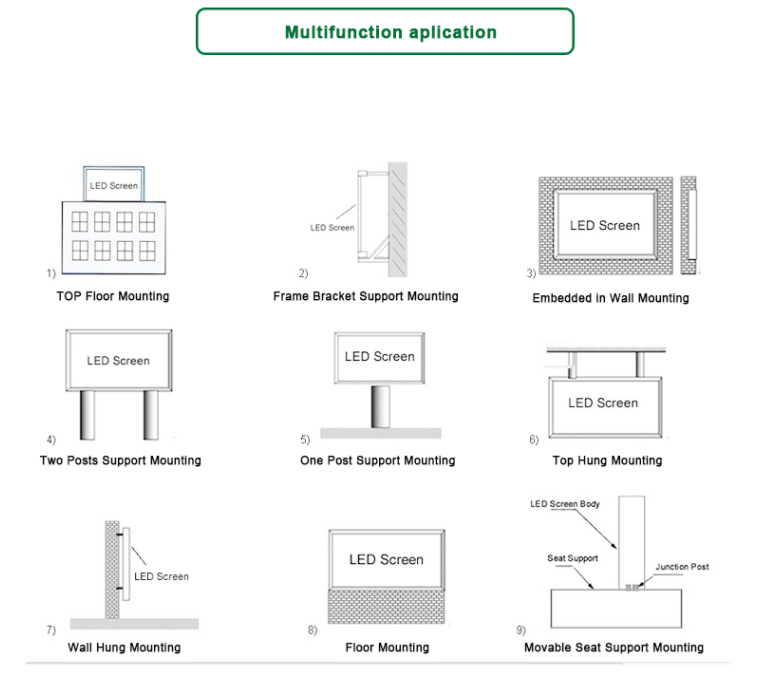 How can I get free shipping?
For small items such as some of led bulbs, led lights, we offer free shipping. If big items, free shipping is available if you order qualify quantity, please refer the checkout page.
When will my order be shipped?
Typically, within 1-3 business days can be shipped. Some customized items take a bit long within 5-7 business days can be shipped, for giant led screens, please refer to page notes.
Where will my order ship from?
Some items can be shipped from local warehouses in the United States and Europe, you can receive your orders quickly, some items will be shipped from the factory where in China. If the location has no stock, your order will be fulfilled by other warehouses automatically.
Do you ship internationally?
Yes, we do. Insert your full address at checkout and shipping rates will be applied to your order, the total amount includes product and shipping.
 
How long will it take for my order to arrive?
We offer post delivery, express, air or by sea.
By post delivery time is within 1 to 2 weeks, many times even less. For remote places, the shipping time will be longer, you can track the shipment on the courier official site.
For giant led billboards, the default delivery is by express service 3-10 days delivery, the exact delivery date according to tracking information of express company.
If you like by sea to transportation, you can communicate with us before you place the order.


What shipping carriers do you use?
For smaller parcels we use postal service or express delivery depends on which shipping way you choose. For larger packages will ship by express or by sea.

The cooperative transportation companies are:
USPS, La Poste, Bpost, Singapore Post, Russian Post, etc 
FedEx, DHL, UPS, TNT, SF express, etc
MSK, COSCO, EMC, APL, HMM, etc.
How can I track my order?
Once we fulfilled your order, you will receive an email notification with a tracking number. You will be able to track it immediately.
 *Some LED signs are custom-made items, if we communicate by email, we'll produce and ship the items according to your confirmation.