Leadleds P10 Outdoor Full Color Led Modules 320x160mm, Waterproof
Hot New P10 Outdoor SMD Full Color Led Display Video Module 320x160mm, 1/4 scan DIY LED screen Waterproof Smd 3535 RGB led panel
Module: P10 outdoor RGB SMD LED module
Pixel Pitch: 10 mm.
Pixel Type: Real pixel.
Pixel Configuration: SMD LED 1R1G1B.
Module Size: 320x160 mm.
Model Pixel: 32x16 pixels.
Pixel Density: 10000 dots/square meter.
Working Voltage: 5V DC.
Lifetime: >=100000 hours.
Best Viewing Distance: 10m~30m.
Max Power Consumption: 600W/square meter.
Ave Power Consumption: 300W/square meter.
Drive Mode (Optional): Constant current 1/4 scan.
Weather Protection: IP65.
Working Environment Temperature: -20°C~60°C.
Outdoor LED Display Function
1. Excellent visual effect, better viewing effect for text and graphic or video.
2. Large viewing angle, getting vivid effect within any position of the viewing range.
3. High contrast ratio and good evenness, high uniformity, without mosaic.
4. Resist the high temperature and anti-oxidation and anti-static.
5. Any led in each pixel can be replaced, which reduces the cost of the display maintenance.
6. Long life & MTBF.
Application
1. Outdoor P10 RGB SMD LED module.
2. Full color LED display.
3. P10 scrolling message LED sign.
4. P10 LED panel.
5. P10 LED message display.
Notice
1. Please note the module picture maybe not be completely the same as the real product because of product upgrading.
2. Different batches of LED modules may have some differences in intensity and color. So please buy all LED modules for one LED display at one time. And we suggest you buy several pcs module spare parts for future fast maintenance.  
Packing List:
1 pc P10 outdoor full color led module
1 pc flat ribbon data cable
1 pc power cable
1 pc waterproof rubber ring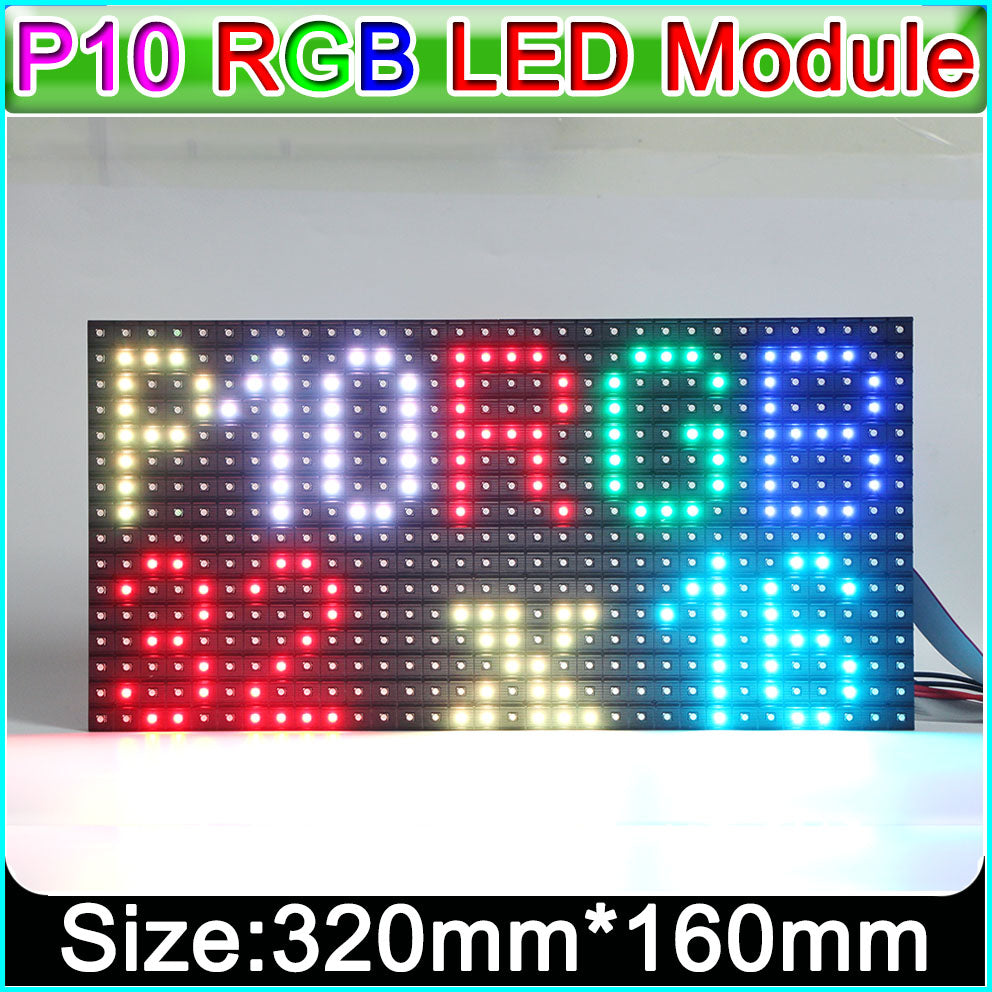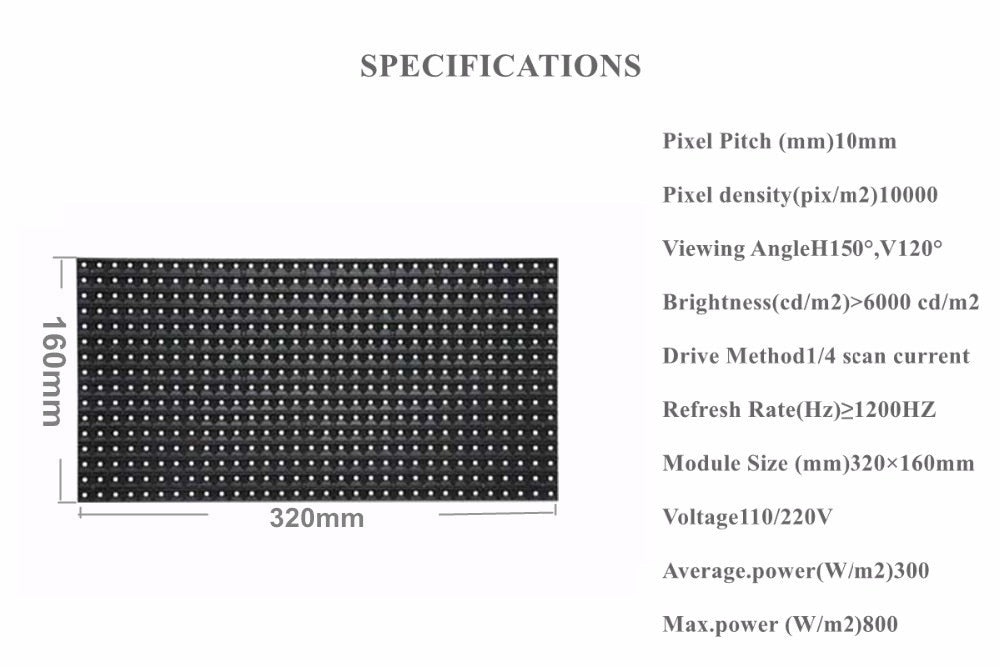 How can I get free shipping?
For small items such as some of led bulbs, led lights, we offer free shipping. If big items, free shipping is available if you order qualify quantity, please refer the checkout page.
When will my order be shipped?
Typically, within 1-3 business days can be shipped. Some customized items take a bit long within 5-7 business days can be shipped, for giant led screens, please refer to page notes.
Where will my order ship from?
Some items can be shipped from local warehouses in the United States and Europe, you can receive your orders quickly, some items will be shipped from the factory where in China. If the location has no stock, your order will be fulfilled by other warehouses automatically.
Do you ship internationally?
Yes, we do. Insert your full address at checkout and shipping rates will be applied to your order, the total amount includes product and shipping.
 
How long will it take for my order to arrive?
We offer post delivery, express, air or by sea.
By post delivery time is within 1 to 2 weeks, many times even less. For remote places, the shipping time will be longer, you can track the shipment on the courier official site.
For giant led billboards, the default delivery is by express service 3-10 days delivery, the exact delivery date according to tracking information of express company.
If you like by sea to transportation, you can communicate with us before you place the order.


What shipping carriers do you use?
For smaller parcels we use postal service or express delivery depends on which shipping way you choose. For larger packages will ship by express or by sea.

The cooperative transportation companies are:
USPS, La Poste, Bpost, Singapore Post, Russian Post, etc 
FedEx, DHL, UPS, TNT, SF express, etc
MSK, COSCO, EMC, APL, HMM, etc.
How can I track my order?
Once we fulfilled your order, you will receive an email notification with a tracking number. You will be able to track it immediately.
 *Some LED signs are custom-made items, if we communicate by email, we'll produce and ship the items according to your confirmation.