Leadleds Outdoor Led Billboard Street Sign Road Light Pole Advertisng Led Screen
Outdoor Waterproof Lamppost Road Pillar Digital Signage Sign Street Light Lamp Pole Post Led Display Screen For Advertising, Single-sided Led Display Screen

✪Fullcolor Display, easy program and fast to send your messages
✪Automatic Brightness Adjustment
✪OFF-line display, display your messages don't need to connect to other devices, just power on and play,
✪Available to play your ads at your scheduled time.

* Display are size: 30" x 53" (768x1344mm)
* Pixel Pitch: 3mm
* Led Matrix: 256 x 448
* Waterproof: Yes
* Best Viewing Distance: 1-50m
* Viewing Angle: Horizontally >160° / Vertically >130°
* Working Temperature: -22°F ~ 122°F
* Operating ambient humidity: 10%-95%RH
* Communication way: LAN or Wi-Fi or 4G
* Operating system: Windows/Me/2000/Xp/7/8/10 or iOS and Android system
* Support video playback, full-color scrolling picture, text display, time, Dynamic clock
* Language support - Alphanumeric (Roman-English) etc World Languages
* Brightness 6000CD/sqm is adjustable.
They are easy to install and easy to operate and is suitable for pole with different styles and heights. It has a video playback device with the characteristics of beautiful appearance, lightness, fashion, high brightness, high color rendering coefficient, waterproof, etc. Suitable for highways, streets on both sides of the road, community promotion, and shopping malls on road poles installed, mainly to replace traditional advertising light boxes. This long-lasting outdoor LED screen can withstand harsh weather conditions while providing a vivid display. Its sleek and modern design is sure to attract attention and boost the visibility of your brand.

Automactic Brightness Adjustment
High-quality LEDs are provided, allowing direct viewing under sunlight, while automatic light sensors and dynamic energy-saving technology enable automatic brightness adjustment according to ambient light. Experience a vibrant display with unparalleled brightness and clarity, even in changing light conditions. A one-of-a-kind dynamic viewing experience you won't find anywhere else.




Super protection, all-round protection
The street light pole sign adopts enclosed power supply and advanced waterproof design, dustproof, radiation-proof, and anti-leakage.  The LED technology allows for reliable performance under outdoor conditions, with low power consumption for a cost-effective and eco-friendly choice.

The package included:
Led Light Pole Sign
Mounting Brackets
Network Cable
Software and manual Security Packing
* This outdoor lamppost led display process time is 12-16 business days
* Shipping by DHL/FEDEX express, shipping takes 5-10 business days to your doorsteps.
The commercial pole signs Application: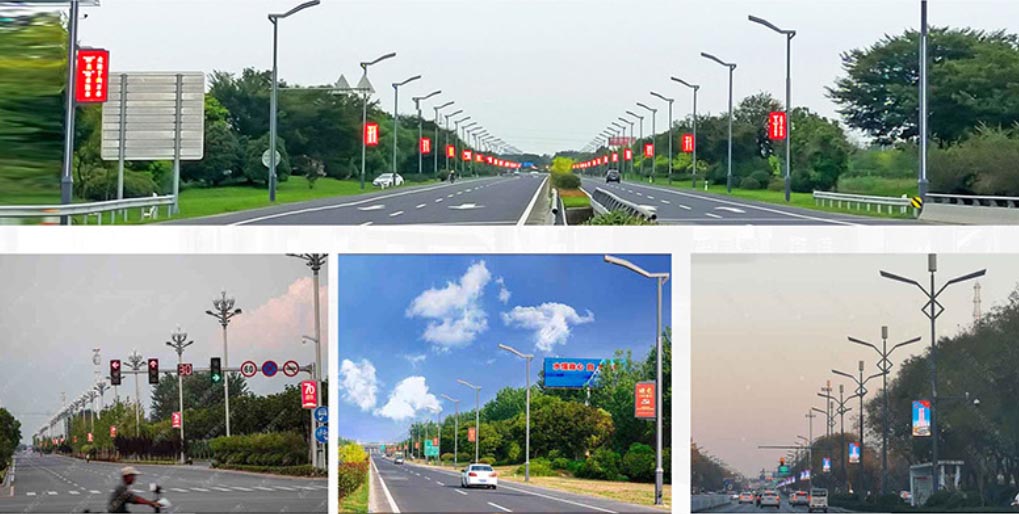 How can I get free shipping?
For small items such as some of led bulbs, led lights, we offer free shipping. If big items, free shipping is available if you order qualify quantity, please refer the checkout page.
When will my order be shipped?
Typically, within 1-3 business days can be shipped. Some customized items take a bit long within 5-7 business days can be shipped, for giant led screens, please refer to page notes.
Where will my order ship from?
Some items can be shipped from local warehouses in the United States and Europe, you can receive your orders quickly, some items will be shipped from the factory where in China. If the location has no stock, your order will be fulfilled by other warehouses automatically.
Do you ship internationally?
Yes, we do. Insert your full address at checkout and shipping rates will be applied to your order, the total amount includes product and shipping.
 
How long will it take for my order to arrive?
We offer post delivery, express, air or by sea.
By post delivery time is within 1 to 2 weeks, many times even less. For remote places, the shipping time will be longer, you can track the shipment on the courier official site.
For giant led billboards, the default delivery is by express service 3-10 days delivery, the exact delivery date according to tracking information of express company.
If you like by sea to transportation, you can communicate with us before you place the order.


What shipping carriers do you use?
For smaller parcels we use postal service or express delivery depends on which shipping way you choose. For larger packages will ship by express or by sea.

The cooperative transportation companies are:
USPS, La Poste, Bpost, Singapore Post, Russian Post, etc 
FedEx, DHL, UPS, TNT, SF express, etc
MSK, COSCO, EMC, APL, HMM, etc.
How can I track my order?
Once we fulfilled your order, you will receive an email notification with a tracking number. You will be able to track it immediately.
 *Some LED signs are custom-made items, if we communicate by email, we'll produce and ship the items according to your confirmation.