Leadleds 20 in LED Bus Display Sign Full Color Super Bright with Suckers
The 20 in LED Bus Sign is designed for tourist buses, and school buses, offering full-color logo display and message selection with a remote controller or LCD controller. Its super-bright LED technology ensures maximum visibility for your logo and message. The sign comes with suckers for easy mounting and removal.

✩ Strong memory messages function
✩ Fast and easy to program your messages
✩ OFF-line operation, power on and play
✩ DC9-36V input voltage
✩ Assisged the messages to display just press the buttons on the remote controller or LCD controller.

The Best Programmable LED Signs Fullcolor Message Vivid Display. 

Brand Name: Leadleds
Type: single-sided indoor led screen for bus front mount
Usage: indoor, nonwaterproof, super bright
Input voltage: 9-36Vdc
Display area size: Width 19.7 X Height 9.8 inches
Pitch: 3.91mm
Led Matrix: 128 x 64, 3-in-1 full-color display, total of 8192 dots display your messages
Display capability: Video/image/text/neon/graphic/animation/etc
View distance: 2-50 meters

Multiple languages supported
Full Color supported
Static or scrolling messages with vivid color
Options messages selector, remote controller, or LCD keypad.

* Aluminum frame size: 20.9 x 11 inches (530 x 280 x 55mm)
* Mount in front of the bus behind the glass, nonwaterproof, super bright
* Full-color solution available apply to the logo, video, picture, text, number, symbol, graph, background, 3-1 led, vivid display
* Change message by WiFi or TCP/IP or Serial port.


[Features]:
---> Multiple languages and each language can be switched freely
---> Supports video, picture, text, neon, numbers, symbols, graphs, clocks, etc
---> Text program edit in any language, free adjust
---> More than 20 effects, such as: move to the right, move to left, snowfall, mosaic, fan open and etc.
---> With multi-program mode
---> With hierarchical management of programs in menu type so as to keep a clear structure and convenient maintenance
---> High efficient energy-saving, supports programs played at the appointed period.

What you'll get:
LED Bus Sign
Strong Suction Cups

*The protocol is available if you use this led bar sign to dock to your system.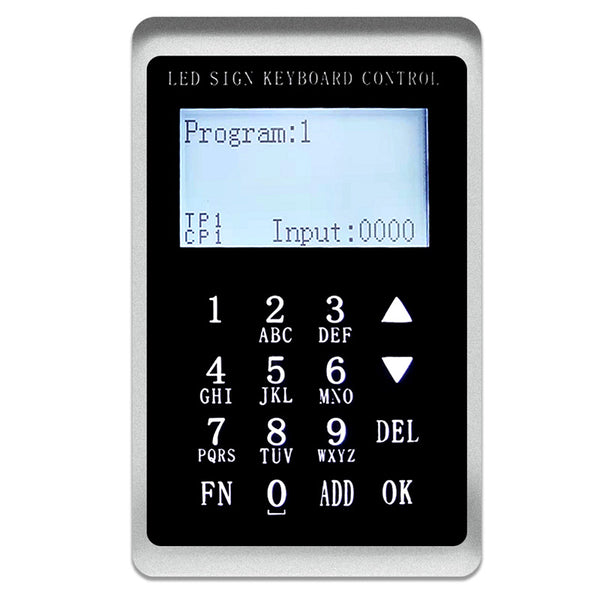 LCD Keypad functions introduction.
1. Directional and numeric keys
2. Brightness setting
3. Power-off saving
4. Language setting
5. Buzzer setting
6. Baud rate setting and synchronization function setting

1. Direction key:
Click UP Switch the program up, and Click DOWN Switch down the program.
Numerical key:
Click 5 + OK Select Play program 5, Click 5+6 + OK, and select Play program 56.

2. Brightness Settings:
Click FN Enter the function Settings interface, Select the brightness setting option, Click OK Go to the Brightness Adjustment page, Click again UP, and DOWN Increase or decrease brightness.
Or click 6 +OK Adjust to Brightness 6. Click FN Return to the previous interface.

3. Switch screen:
Select the Go to Switch Screen option, Click OK Click UP, and DOWN Switch on and off screen options. Click FN Return to the previous interface.

4. Save without power
When the led sign is turned on and powered back on, the selected program will be maintained.

5. Language Settings:
Support Chinese, English, and traditional three languages, Select the language settings and click OK to enter, Click UP and DOWN to Switch languages, and Click OK to Select the language. Then wait to power up again.

6. Buzzer Settings
There will be a dripping sound every time the button is turned on, and there will be no after it is turned off.

7. Baud rate setting
Switch to the baud rate setting option. Click OK, Click again UP and DOWN Switching baud rate, Last click OK.

8. Setting of the synchronization function
Divided into screen capture synchronization and text synchronization, the text program will display the current program, and the screen capture function will intercept the picture to the keypad. (The size cannot exceed 128x64 points and there is no grayscale.)

9. Edit the program sequence function :
Click the number keys 1+ADD +3 +ADD +5 + OK
Program 1, program 3, and program 5 are played in sequence.

Click the number keys 5+ADD +1 + ADD+ 3+ OK
Program 5, program 1, and program 3 are played in sequence.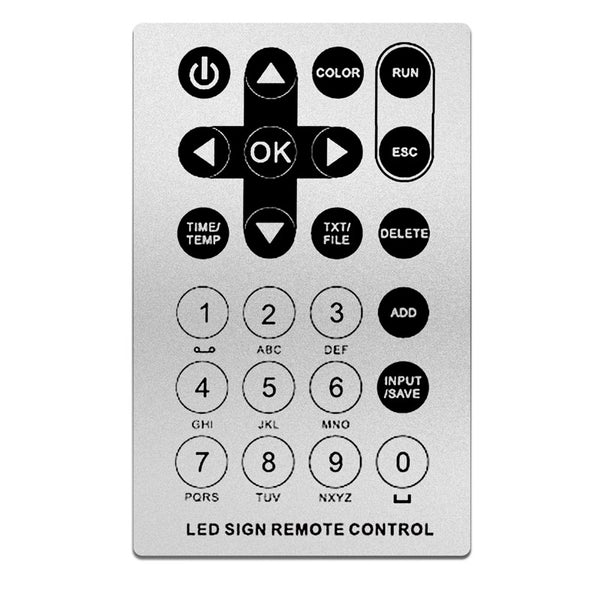 About the Remote Controller for select Messages to Display.
1.1 Function key
POWER button, Turn ON or Turn OFF
UP and DOWN button, Return or Next program
LEFT and RIGHT buttons, Brightness adjust

【0-9】     Number of program
【ADD】     Add another program
【RUN】     Finish editing and play the program that is selected (Save to RAM)
【ESC】      Exit edit
【SAVE】    Finish editing and play the program that is selected (Save to FLASH)
【DELETE】 Exit edit and cancel select playing

1.2 How to use this remote controller, fast to choose your messages display.
Example 1:Play a program

1.[9]+[RUN] (Play program 9)
2.[04]+[RUN](Play program 4)
3.[12]+[RUN](Play program 12)

Example 2:Play multi-programs
1.[2]+[ADD]+[4]+[ADD]+[03]+[SAVE](playing 2->4->3 program,and save to FLASH)
2.[04]+[ADD]+[5]+[ADD]+[RUN](playing 4->5 program,and save to RAM)
How can I get free shipping?
For small items such as some of led bulbs, led lights, we offer free shipping. If big items, free shipping is available if you order qualify quantity, please refer the checkout page.
When will my order be shipped?
Typically, within 1-3 business days can be shipped. Some customized items take a bit long within 5-7 business days can be shipped, for giant led screens, please refer to page notes.
Where will my order ship from?
Some items can be shipped from local warehouses in the United States and Europe, you can receive your orders quickly, some items will be shipped from the factory where in China. If the location has no stock, your order will be fulfilled by other warehouses automatically.
Do you ship internationally?
Yes, we do. Insert your full address at checkout and shipping rates will be applied to your order, the total amount includes product and shipping.
 
How long will it take for my order to arrive?
We offer post delivery, express, air or by sea.
By post delivery time is within 1 to 2 weeks, many times even less. For remote places, the shipping time will be longer, you can track the shipment on the courier official site.
For giant led billboards, the default delivery is by express service 3-10 days delivery, the exact delivery date according to tracking information of express company.
If you like by sea to transportation, you can communicate with us before you place the order.


What shipping carriers do you use?
For smaller parcels we use postal service or express delivery depends on which shipping way you choose. For larger packages will ship by express or by sea.

The cooperative transportation companies are:
USPS, La Poste, Bpost, Singapore Post, Russian Post, etc 
FedEx, DHL, UPS, TNT, SF express, etc
MSK, COSCO, EMC, APL, HMM, etc.
How can I track my order?
Once we fulfilled your order, you will receive an email notification with a tracking number. You will be able to track it immediately.
 *Some LED signs are custom-made items, if we communicate by email, we'll produce and ship the items according to your confirmation.