Leadleds WiFi Led Sign Business Sign Board Display Multicolor Message, 40 x 11-in
You control the message with your phone, when programming and sending the message, don't need to connect any device, just use your phone via wifi to program.
Fast, easy, and the most convenient way to display your message.
Frame size: 40 x 11 x 2.2in
Display size: 38 x 10in
Pitch size: 7.62mm
Pixels: 32 x 128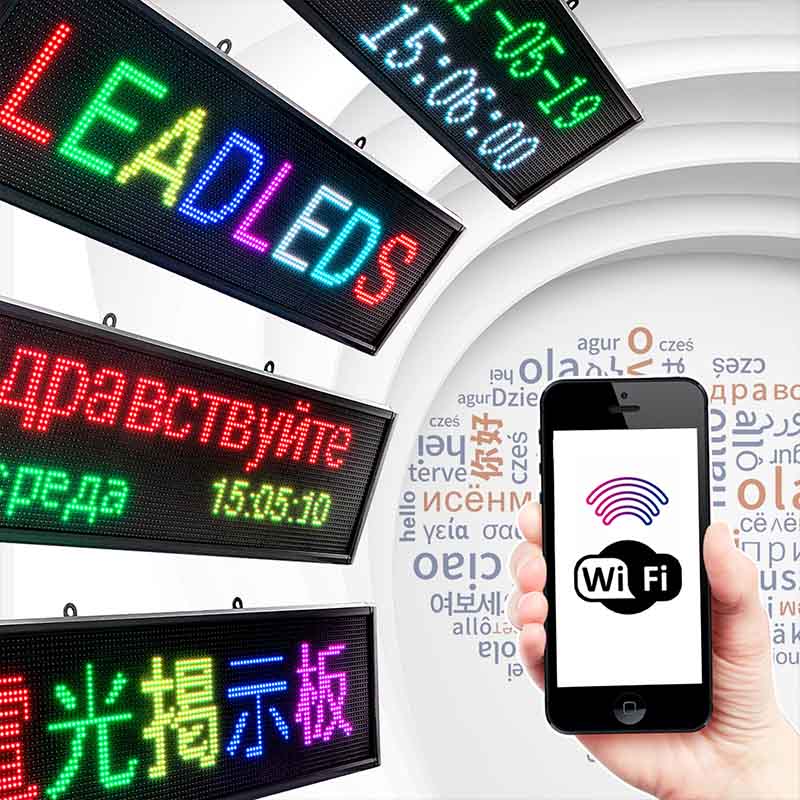 The housing color is Black. The WiFi led message display board made by aluminum

10,000+ hours of usage. Easy to install ear mounts.  For indoor use with a nice effect. Simple 3 Steps to Send Message 

 Multiple Language Supported. 

Features customized scrolling messages with hundreds of effects & fonts

More than 20 Kinds Moving Actions. Support auto turns ON-OFF according to your setting. 

Different scrolling actions for your choice, like flashing, static, moving to the left, moving to the right, and so on.

 Multi-action for displaying, including snow, spray, twinkle, rotate, scroll, starburst, wipe and etc 

By Wi-Fi update message. 

Wi-Fi Connection NO Cables to Connect NO Remote Control Needed

The font size of the text message is adjustable

 AC100-240V power supply((US/EU/AU/UK Plug as your national use)

It is commonly used in indoor settings such as conference rooms, stadiums, retail stores, and other commercial spaces.

Indoor LED screens are also energy-efficient, durable, and low-maintenance, making them a cost-effective option for long-term use. They can be controlled through a computer or mobile device, allowing for easy content management and customization.





How can I get free shipping?
For small items such as some of led bulbs, led lights, we offer free shipping. If big items, free shipping is available if you order qualify quantity, please refer the checkout page.
When will my order be shipped?
Typically, within 1-3 business days can be shipped. Some customized items take a bit long within 5-7 business days can be shipped, for giant led screens, please refer to page notes.
Where will my order ship from?
Some items can be shipped from local warehouses in the United States and Europe, you can receive your orders quickly, some items will be shipped from the factory where in China. If the location has no stock, your order will be fulfilled by other warehouses automatically.
Do you ship internationally?
Yes, we do. Insert your full address at checkout and shipping rates will be applied to your order, the total amount includes product and shipping.
 
How long will it take for my order to arrive?
We offer post delivery, express, air or by sea.
By post delivery time is within 1 to 2 weeks, many times even less. For remote places, the shipping time will be longer, you can track the shipment on the courier official site.
For giant led billboards, the default delivery is by express service 3-10 days delivery, the exact delivery date according to tracking information of express company.
If you like by sea to transportation, you can communicate with us before you place the order.


What shipping carriers do you use?
For smaller parcels we use postal service or express delivery depends on which shipping way you choose. For larger packages will ship by express or by sea.

The cooperative transportation companies are:
USPS, La Poste, Bpost, Singapore Post, Russian Post, etc 
FedEx, DHL, UPS, TNT, SF express, etc
MSK, COSCO, EMC, APL, HMM, etc.
How can I track my order?
Once we fulfilled your order, you will receive an email notification with a tracking number. You will be able to track it immediately.
 *Some LED signs are custom-made items, if we communicate by email, we'll produce and ship the items according to your confirmation.