Leadleds Control Card Smart Led Panel Display Sign Full Color Text Picture
Full-Color Text picture Video LED signs Control Card HC3-4 Support P3 P4 P5 P6 P7.62 P8 P10mm Led module display board
Tube Chip Color: Full Color
Display Function: Graphics/video/picture/text/number
Usage: OUTDOOR, INDOOR
Model Number: HC3-4
Brand Name: Leadleds
is_customized: Yes
Pixels: 4mm,5mm,6mm,7.62mm,10mm,16mm
Control Range: Full-color control pixels 50K, 224x224,400x128,800x64 pixels
Module interface: 4 x HUB75 port (can support HUB75 / HUB75B /HUB75E port led display modules)
Software: Send via a network link, no CD

LED display asynchronous control card WIFI + USB port, can support video, picture, text and etc., phone APP sending messages to this led display.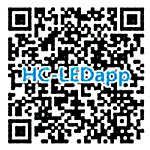 (scan the above QR code to download the APP to your mobile phone)

Pixels control range:
HC3-4 Full-color control pixels 50K: 224 x 224, 400 x 128, 800 x 64 pixels

Application: support P2, P2.5, P3, P4, P5, P6, P10, P8,P10 etc. full-color LED modules
Communication by Wi-Fi, option by USB to transfer your customized messages.
Wi-Fi function: support mobile phone APP [Android], support through the computer wireless card to send
Interface: 4 x HUB75 port (can support HUB75 / HUB75B /HUB75E port led display modules)

Software setting password: 168
Software wifi password: 12345678
Grey level: 32 grade
MAX supports 32 programs
Time: digital clock/analog clock/timer/lunar/solar terms
Test button: support (used to do the test card)
Content support: video/text/subtitle/picture/animation/time/dial/timing/ SWF and GIF animation

With text, images animation effects, easy to operate
GIF animation smoothly plays and has the dynamic effect, compelling
Brightness adjustment: multistage brightness is optional
Background effect: support for a variety of special effects in the background
magic frame/ordinary text effects/dynamic text effects
support full-time playing regularly
Working voltage: DC4.2V~DC 5.5V
Working temperature range: -30 ℃~70 ℃
Packing list:
1 pcs control card
The software will be provided online
How can I get free shipping?
For small items such as some of led bulbs, led lights, we offer free shipping. If big items, free shipping is available if you order qualify quantity, please refer the checkout page.
When will my order be shipped?
Typically, within 1-3 business days can be shipped. Some customized items take a bit long within 5-7 business days can be shipped, for giant led screens, please refer to page notes.
Where will my order ship from?
Some items can be shipped from local warehouses in the United States and Europe, you can receive your orders quickly, some items will be shipped from the factory where in China. If the location has no stock, your order will be fulfilled by other warehouses automatically.
Do you ship internationally?
Yes, we do. Insert your full address at checkout and shipping rates will be applied to your order, the total amount includes product and shipping.
 
How long will it take for my order to arrive?
We offer post delivery, express, air or by sea.
By post delivery time is within 1 to 2 weeks, many times even less. For remote places, the shipping time will be longer, you can track the shipment on the courier official site.
For giant led billboards, the default delivery is by express service 3-10 days delivery, the exact delivery date according to tracking information of express company.
If you like by sea to transportation, you can communicate with us before you place the order.


What shipping carriers do you use?
For smaller parcels we use postal service or express delivery depends on which shipping way you choose. For larger packages will ship by express or by sea.

The cooperative transportation companies are:
USPS, La Poste, Bpost, Singapore Post, Russian Post, etc 
FedEx, DHL, UPS, TNT, SF express, etc
MSK, COSCO, EMC, APL, HMM, etc.
How can I track my order?
Once we fulfilled your order, you will receive an email notification with a tracking number. You will be able to track it immediately.
 *Some LED signs are custom-made items, if we communicate by email, we'll produce and ship the items according to your confirmation.