Leadleds 39 x 79 in Full Color LED Advertising DIplay Church Stage Conference Live Play
Live play video with HD display, you get superior clarity and a brilliant full-color display 
Brand: Leadleds
Size: Width 79 in X Height 39 in (W2000 * H1000mm)
Application: Indoor
Structure: die-cast aluminum cabinets
Color: Full color
Control system: live video play
Pixel Pitch: 1.86mm
Led matrix: 537 x 1075
Resolution: 1080p
Use: Live Events Led Display

LED Display Features:
1. Seamless Splicing, Super Wide Viewing Angle, Highly Accurate Brightness & Color Consistency
2. It delivers an image that is super subtle and without getting tired after a long time watching
3. Super High Refresh Rate, High Frame Frequency, No Ghosting &Twisting or Smear
4. Front Serviceable Module allows easy Maintenance, Saving Time & Space
5. The color transition is more natural.
Technical Parameter
1. Pixel tube

Pixel spacing: 1.86mm
Package: SMD1515
Primary color: Red/Blue/Green
The color combination of the luminous point: 1R1G1B
Physical density: 288906 points/m2

2. LED Module

Unit board resolution: 172 points wide × High 86 points
Unit board size: 320 * 160mm
Number of unit boards: 14792 points/unit board
Scanning mode: 43S
Input voltage: DC5V
Maximum current: 4.5 A

3. LED Screen

Led screen size: Width 79 in X Height 39 in (W2000 * H1000mm)
Physical resolution: 1075 * 537 points
Working voltage: 110V ± 15%
The angle of view: 160 ° ± 10 °
Storage temperature: - 30 ℃~+60 ℃
Working temperature: - 20 ℃~+45 ℃
Relative humidity: 10%~95%

4. Control system

Control host: Lenovo Kaitian host or above
Operating system: WIN 7/10
Control mode: synchronous control
Video card: DVI independent video card

5. Main technical parameters

1) Driver: Constant current
2) Drive mode: 1/43S
3) Refresh frequency: ≥ 1920~3840Hz
4) Frame rate: ≥ 60Hz
5) Grayscale/color: 65536 Grayscale 16.7M color
6) Optimal sight distance: 2.5~25m
7) Brightness: 700cd/m2
8) Brightness adjustment mode: software 256-level adjustable
9) Video signals: RF, S-Video, RGB, RGBHV, YUV, YC, COMMISSION, etc
10) The control system adopts: DVI graphics card + master control card + optical fiber transmission
11) Service life: 100000 hours
12) Flatness: ≤ 0.5mm between any adjacent pixels; Splicing clearance of unit plate < 1mm;
13) Uniformity: uniform pixel light intensity and unit board brightness
14) Pixel runaway rate: < 0.0002
15) Switching power supply load: 5V/40A
16) Computer display mode: 1920 × 1080
17) Effective communication distance: network cable 100m (no trunk), multimode fiber 500m, single-mode fiber 20km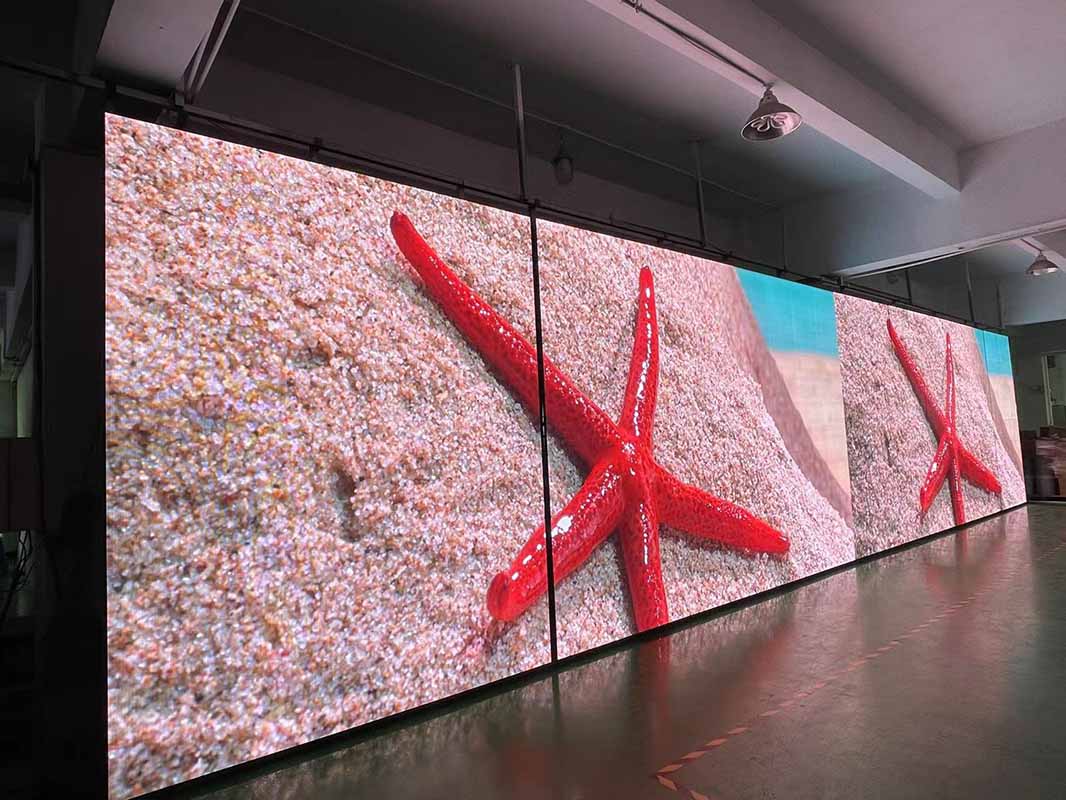 This 39 x 79 in Full Color LED Advertising Display is perfect for concerts, car shows, and other large-scale events. It produces high-quality images and videos and is an ideal choice for live plays, fashion shows, sports matches, and more. With its vibrant colors, it is sure to capture attention and draw a crowd.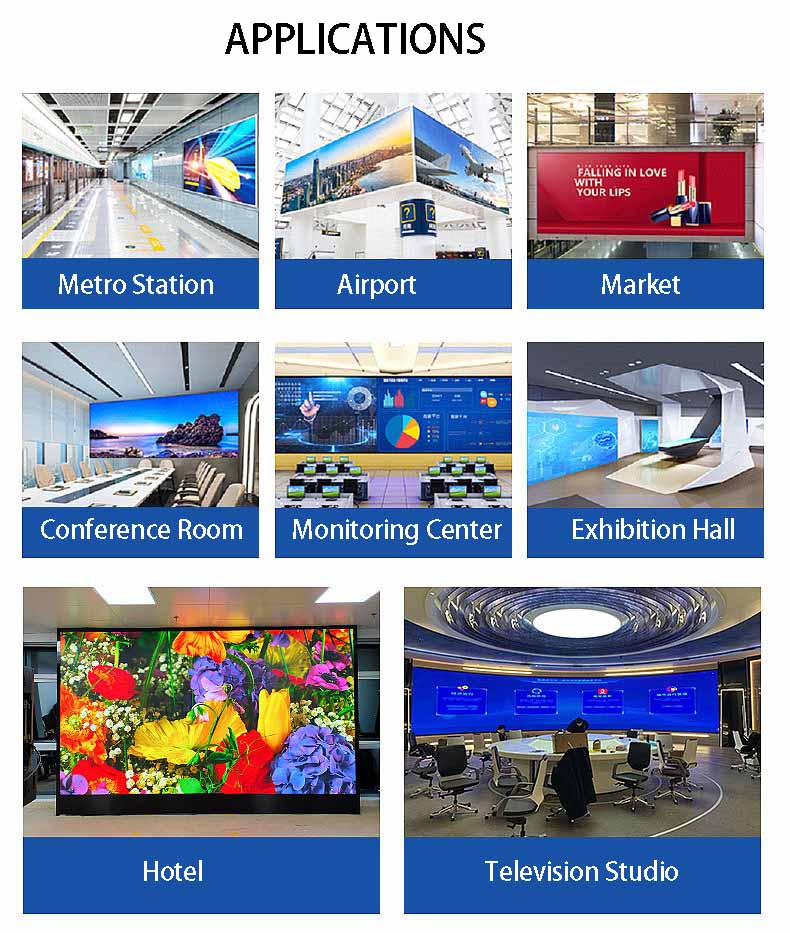 What in the box:
LED video panel
Led video processor
Power cable
Power interconnect cables
Signal cable
Signal interconnect cables
Software and manual
Shipping
Packing: Hard cardboard boxes + Wooden frame
It's by FedEx-DHL- UPS the express shipping way delivery to you! 
Estimated Delivery Time: 5 - 7 days (ships out within 10 business days)
How can I get free shipping?
For small items such as some of led bulbs, led lights, we offer free shipping. If big items, free shipping is available if you order qualify quantity, please refer the checkout page.
When will my order be shipped?
Typically, within 1-3 business days can be shipped. Some customized items take a bit long within 5-7 business days can be shipped, for giant led screens, please refer to page notes.
Where will my order ship from?
Some items can be shipped from local warehouses in the United States and Europe, you can receive your orders quickly, some items will be shipped from the factory where in China. If the location has no stock, your order will be fulfilled by other warehouses automatically.
Do you ship internationally?
Yes, we do. Insert your full address at checkout and shipping rates will be applied to your order, the total amount includes product and shipping.
 
How long will it take for my order to arrive?
We offer post delivery, express, air or by sea.
By post delivery time is within 1 to 2 weeks, many times even less. For remote places, the shipping time will be longer, you can track the shipment on the courier official site.
For giant led billboards, the default delivery is by express service 3-10 days delivery, the exact delivery date according to tracking information of express company.
If you like by sea to transportation, you can communicate with us before you place the order.


What shipping carriers do you use?
For smaller parcels we use postal service or express delivery depends on which shipping way you choose. For larger packages will ship by express or by sea.

The cooperative transportation companies are:
USPS, La Poste, Bpost, Singapore Post, Russian Post, etc 
FedEx, DHL, UPS, TNT, SF express, etc
MSK, COSCO, EMC, APL, HMM, etc.
How can I track my order?
Once we fulfilled your order, you will receive an email notification with a tracking number. You will be able to track it immediately.
 *Some LED signs are custom-made items, if we communicate by email, we'll produce and ship the items according to your confirmation.