1.8 inch Remote 6 Digits Display Countdown Clock Count Up Countdown Timer For researched and Swim Use Stopwatch Gym / Boxing gym
Industrial Digital LED Countdown Timer Clocks
Brand Name: Leadleds
Tube Chip Color: Red + Blue
Model Number: LLD-3510BR
Usage: Indoor
Display Function: Digital
Size: 29cm x 10cm x 3.8cm
Visual range: 12m
Control mode: Remote control
Housing material: Aluminium
Function: Countdown and count up and 12/24 hour time

Digit High: 1.8''/4.5cm
Dimension: 29cm W x 10cm H x 3.8cm D  /  11.4''W x 4'' H x 1.5'' D
Time format: 12&24hour format
Function: Countdown, Count up, Stop, Reset & Time
Control by wireless remote control
Case Material: Aluminum
Power: AC110~250V depends on your countries' standard
Mounting Method: Wall-mount Hang Stand on desk

This is a perfect LED interval timer for MMA Boxing Tabata in your gym or home or office.

It can show the time of day between 12 and 24 hours time.
It can countdown and countdown in minutes: seconds
It can be set as a stopwatch in minutes:seconds: hundredths of a second

The most important function is can set training time and rest time. You can set a group of training time and rest time. It also can press 0~9 number buttons to save up your preset value.
There has a buzzer inside of the timer when it starts to run, it has 10 seconds to prepare and a beep on 3 2 1 GO!

Main Function:
12/24hour time of day (12hour format: H2 HH: MM; 24hour format: H1 HH: MM)
Stop Watch (Minutes Seconds: Hundredths of a second  00:00:00 to 99:59:00)
Countdown & Count up (Countdown format : in MM:SS from 99:59 to 00:00 ; Count up format: UP MM:SS from 00:00 to 99:59)
Alternate timing for training and rest. (F = Training time; C= Rest time 1= First group running; like F1 MM: SS C1 MM: SS; F2 MM: SS C2 MM: SS etc.)
You set several groups of training and rest time and then it will run from the first group to the last group.
Price Included:
1x AC Adapter
2x brackets and screws
1x remote control
1x digital time clock
1x user manual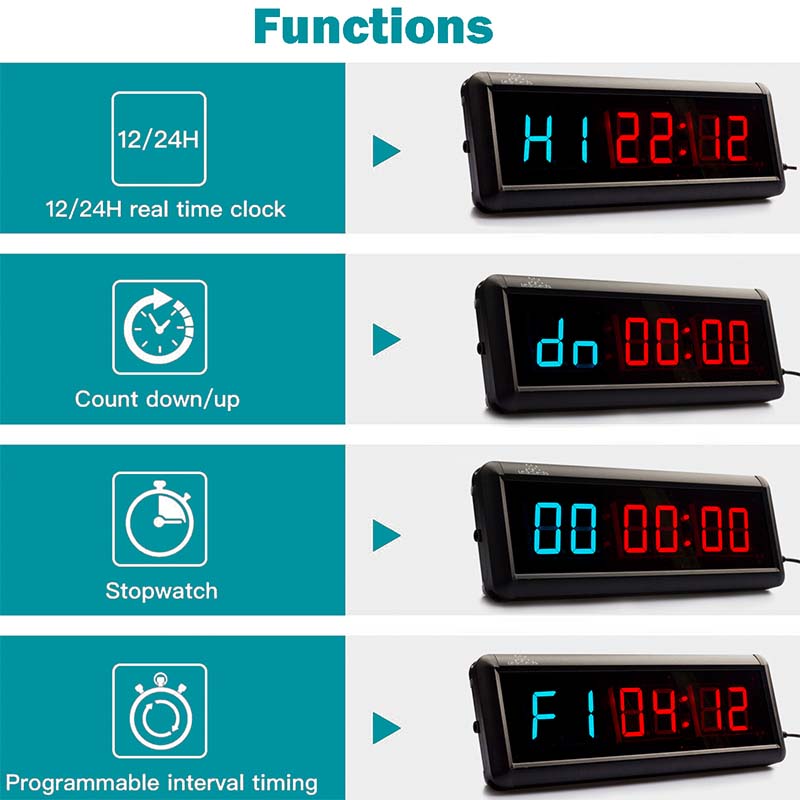 🟡 Order Process Time: 2 - 4 business days
How can I get free shipping?
For small items such as some of led bulbs, led lights, we offer free shipping. If big items, free shipping is available if you order qualify quantity, please refer the checkout page.
When will my order be shipped?
Typically, within 1-3 business days can be shipped. Some customized items take a bit long within 5-7 business days can be shipped, for giant led screens, please refer to page notes.
Where will my order ship from?
Some items can be shipped from local warehouses in the United States and Europe, you can receive your orders quickly, some items will be shipped from the factory where in China. If the location has no stock, your order will be fulfilled by other warehouses automatically.
Do you ship internationally?
Yes, we do. Insert your full address at checkout and shipping rates will be applied to your order, the total amount includes product and shipping.
 
How long will it take for my order to arrive?
We offer post delivery, express, air or by sea.
By post delivery time is within 1 to 2 weeks, many times even less. For remote places, the shipping time will be longer, you can track the shipment on the courier official site.
For giant led billboards, the default delivery is by express service 3-10 days delivery, the exact delivery date according to tracking information of express company.
If you like by sea to transportation, you can communicate with us before you place the order.


What shipping carriers do you use?
For smaller parcels we use postal service or express delivery depends on which shipping way you choose. For larger packages will ship by express or by sea.

The cooperative transportation companies are:
USPS, La Poste, Bpost, Singapore Post, Russian Post, etc 
FedEx, DHL, UPS, TNT, SF express, etc
MSK, COSCO, EMC, APL, HMM, etc.
How can I track my order?
Once we fulfilled your order, you will receive an email notification with a tracking number. You will be able to track it immediately.
 *Some LED signs are custom-made items, if we communicate by email, we'll produce and ship the items according to your confirmation.