Leadleds 12V Led Car Sign Round Shaped Full Color Animation Led Display by Phone Program
customers are viewing this product
22cm RF Remote RGB Led Car Sign WiFi Programmable Scrolling Message Sign Board for Car Windows Uber Light display DIY Kit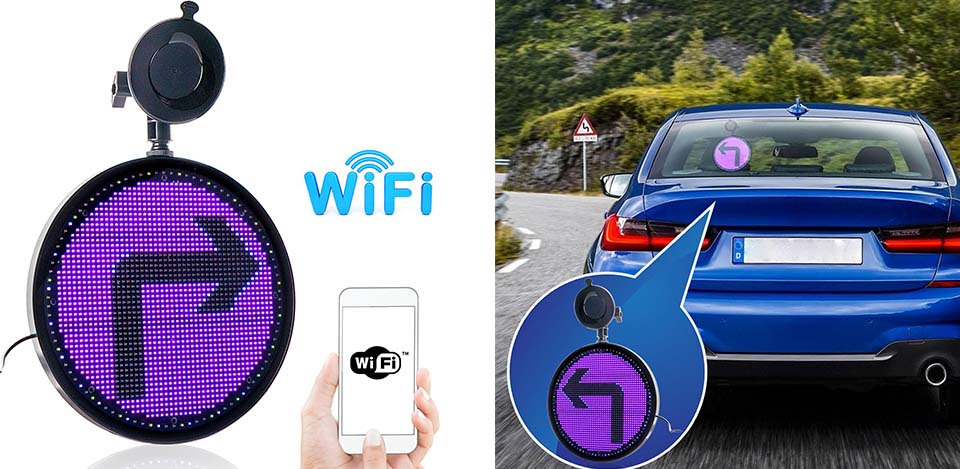 By your phone to send messages, the driver can choose the message to display by press the button of the RF remote controller, easy to use, safe for drivers.

Product Size: Dia. 225mm / 9-in
Display Size: 190mm / 7.5 inches
Screen Thickness: 15mm /0.59-in
Message Color: full color
Shell: black
Resolution :48*48 dots
Communication: Laptop WiFi or Mobile WiFi Input, compatibility iPhone or Android phone
Average power: 10W

Support Multi-language, number, animation, time, clock, count, GIF, and no grayscale vector pictures
Support multi-language, including English, Spanish, French, Japanese, Russian, Hebrew, Arabic, and so on.
Animation format: GIF format animation can be added, support all the emoticons include Smiley, flower, flag, middle finger, etc.

Usage: car Indoor Waterproof IP level: IP54 (life level waterproof)
All car models are suitable for, easy to install/remove, SMD2121 high brightness LED.
It's very bright, clear, easy to use. Here's what I did:
1. Download the App (I use an Android phone), it's #compatible #iPhone as well
2. Turn on the led panel
3. Open your WLAN settings on your phone.
4. Connect to the sign's WiFi (TF-WiFi ####....)
5. Open the App on your phone
6. Tap 'Search – Quick Text' to program your message quickly
7. Tap 'Program Edit' to add pictures(no grayscale vector image supported) and more effects
8. Tick the program what you want the led sign display, tap ''Send"


The Brand: Leadleds
Led Sign working voltage: DC5V
Apply car Voltage: DC12V
USB cable length: 3.5 meters ( 11.5Ft.)
WiFi #communicate distance: 0-30 meters
After the finished the program, use the Radar Remote controller to choose the message, affect distance: 0-50 meters
Store memory: 2MB up to 200 messages
What is in the colored box:

For car rear window use:
Car led sign with cigar lighter and 11.5Ft power cable x 1
Suction cup x 1
RF Remote Control for selection message x 1
Manual x 1

For socket indoor use:
Led sign with cigar lighter and 11.5Ft power cable x 1
Suction cup x 1
RF Remote Control for selection message x 1
DC12V Convert 100-240v ac Kit x 1
Manual x 1
SHIPPING
How can I get free shipping?
For small items such as some of led bulbs, led lights, we offer free shipping. If big items, free shipping is available if you order qualify quantity, please refer the checkout page.
When will my order be shipped?
Typically, within 1-3 business days can be shipped. Some custom items take a bit long within 5-7 business days can be shipped.
Where will my order ship from?
Some items can be shipped from local warehouses in United States and Europe, you can receive your orders quickly, some items will be shipped from factory where in China.
Do you ship internationally?
Yes we do. Insert your full address at checkout and international shipping rates will be applied to your order. We offer most items are free shipping.
How long will it take for my order to arrive?
Within 1 to 2 weeks. Many times even less. By express expedited service is available.
What shipping carriers do you use?
For smaller packages we will use Postal Service. For larger packages we use express like FedEx/TNT/DHL fast delivery to your doorsteps.
How can I track my order?
Once we fulfilled your order, you will receive an email notification with a tracking number. You will be able to track it immediately.