Leadleds 3D Hologram Advertising Display LED Fan
32CM or 12.5 INCH 3D Hologram Fan Holographic Business Display Projector, HD Video Advertising Projector Fan for Shops Office Home
Customize video and pattern editing, support memory card, and pattern editing software, and can flexibly change advertising content.

By WiFi to upload video, support iOS or Android, fast and convenient, suitable for conversion of MP4, JPG, GIF, and other formats.

Can play and sync sound via your Bluetooth speaker

Transparent protective cover to ensure safety and minimize noise, easy to carry, no need to worry about safety issues caused by fan rotation.

A cool hologram projector and aerial imaging create the best attraction for your product or event.

High‑resolution three‑D holographic visual effects can help you effectively convert passive audiences into real buyers.
Specification:
Item Type: Projector
Display diameter: 32cm / 12.5-in
Product size: 380 x 340 x 120mm
Material: Aluminum Alloy + ABS
Suitable Formats: MP4/JPG/GAIF/MOV
Power Input Voltage: AC100-240V, 50 / 60HZ
Product Output Voltage: 12V
Built-in Memory Card 16G
Resolution: 1400 x 256
Rated power: 15W
Use Site: Indoor and Outdoor nonwaterproof

The mini-size innovative 3D hologram fan offers a funny display of photos or videos for your home, office, and shops. It uniquely introduces a hi-tech hardware device generating stunning 3D visuals perceived by viewers as hi-resolution holograms floating in mid-air.


MORE FUNNY & CHIC WAY for LIFESTYLE: it can act as a digital picture frame in displaying photos or videos, so you can enjoy a happy time anywhere.
MINI SIZE & PORTABLE: 12.5-inch diameter and lightweight ensures it can be carried with you anytime anywhere.
SAFE TO KIDS: this device is equipped with a transparent protective cover, which eliminates any harm to your kids.
File Support format: MP4/JPG/GAIF/MOV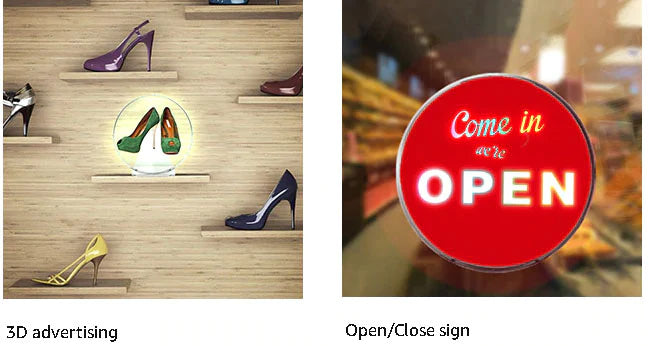 How can I get free shipping?
For small items such as some of led bulbs, led lights, we offer free shipping. If big items, free shipping is available if you order qualify quantity, please refer the checkout page.
When will my order be shipped?
Typically, within 1-3 business days can be shipped. Some customized items take a bit long within 5-7 business days can be shipped, for giant led screens, please refer to page notes.
Where will my order ship from?
Some items can be shipped from local warehouses in the United States and Europe, you can receive your orders quickly, some items will be shipped from the factory where in China. If the location has no stock, your order will be fulfilled by other warehouses automatically.
Do you ship internationally?
Yes, we do. Insert your full address at checkout and shipping rates will be applied to your order, the total amount includes product and shipping.
 
How long will it take for my order to arrive?
We offer post delivery, express, air or by sea.
By post delivery time is within 1 to 2 weeks, many times even less. For remote places, the shipping time will be longer, you can track the shipment on the courier official site.
For giant led billboards, the default delivery is by express service 3-10 days delivery, the exact delivery date according to tracking information of express company.
If you like by sea to transportation, you can communicate with us before you place the order.


What shipping carriers do you use?
For smaller parcels we use postal service or express delivery depends on which shipping way you choose. For larger packages will ship by express or by sea.

The cooperative transportation companies are:
USPS, La Poste, Bpost, Singapore Post, Russian Post, etc 
FedEx, DHL, UPS, TNT, SF express, etc
MSK, COSCO, EMC, APL, HMM, etc.
How can I track my order?
Once we fulfilled your order, you will receive an email notification with a tracking number. You will be able to track it immediately.
 *Some LED signs are custom-made items, if we communicate by email, we'll produce and ship the items according to your confirmation.