Leadleds 3D Hologram Advertising Display Fan WiFi Control 100CM 4 Axis, Safety Cover Including
3D Hologram Fan Projector, Portable HD Advertising Player Holographic Display Machine Phone WiFi Control 100CM 4 Axis for Shop Bar Entertainment Trade Show Booth
★

100CM 4 blades design, 1024*1024 resolution, brightness increased by 30%.

★ Ultra-high-density 1024 LED rotating imaging, showing the high-definition 3D visual effect of the eye. The physical resolution reaches

1

024

*

1

024

, and it really enters the high-definition horizon.
★ The brightness is increased by 30%, and the outdoor is also clearly visible, up to 1800lm.
★

Support video, animations, and image displays, compatible IOS/Android/Windows, WIFI direct connection, easy to program and send your custom advertising.
Specification:
Number of lamp beads: 1024 array of colorful LEDs
Physical resolution: 1024*1024 pixels
Rated voltage: 24V
Rated power: 90W
Brightness: 1800 lm
Lamp life: 30,000 hours
Supported formats: JPG GIF MP4 AVI RMVD MPEG
Viewing angle: 176°
Built-in memory card storage: 16GB
Operation system:Windows/IOS / Android
Update Content: SD card / WiFi
Housing material: ABS+PC+ metal
Weight: Approx. 1820g
Product installed size: about 1000x1000MM (39x39 inches)
Speed: 720 rev / min
Protection level:IP54

Package List:
1 * WiFi 3D Holographic Projector
4 * LED fan blade
1 * Transparent cover
1 * Screws Bag
1 * Fixed metal frame
1 * AC Adapter
1 * User Manual
Shipping:

It's by FedEx-DHL- TNT the express shipping way delivery to you! 

Estimated Delivery Time: 3-5 days (ships out within 5-7 business days)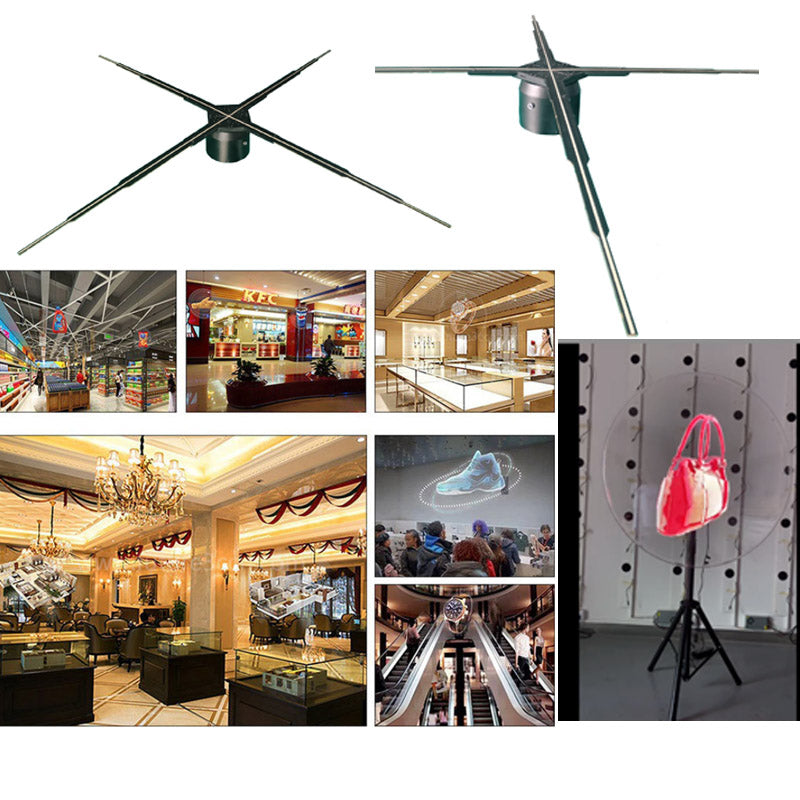 How can I get free shipping?
For small items such as some of led bulbs, led lights, we offer free shipping. If big items, free shipping is available if you order qualify quantity, please refer the checkout page.
When will my order be shipped?
Typically, within 1-3 business days can be shipped. Some customized items take a bit long within 5-7 business days can be shipped, for giant led screens, please refer to page notes.
Where will my order ship from?
Some items can be shipped from local warehouses in the United States and Europe, you can receive your orders quickly, some items will be shipped from the factory where in China. If the location has no stock, your order will be fulfilled by other warehouses automatically.
Do you ship internationally?
Yes, we do. Insert your full address at checkout and shipping rates will be applied to your order, the total amount includes product and shipping.
 
How long will it take for my order to arrive?
We offer post delivery, express, air or by sea.
By post delivery time is within 1 to 2 weeks, many times even less. For remote places, the shipping time will be longer, you can track the shipment on the courier official site.
For giant led billboards, the default delivery is by express service 3-10 days delivery, the exact delivery date according to tracking information of express company.
If you like by sea to transportation, you can communicate with us before you place the order.


What shipping carriers do you use?
For smaller parcels we use postal service or express delivery depends on which shipping way you choose. For larger packages will ship by express or by sea.

The cooperative transportation companies are:
USPS, La Poste, Bpost, Singapore Post, Russian Post, etc 
FedEx, DHL, UPS, TNT, SF express, etc
MSK, COSCO, EMC, APL, HMM, etc.
How can I track my order?
Once we fulfilled your order, you will receive an email notification with a tracking number. You will be able to track it immediately.
 *Some LED signs are custom-made items, if we communicate by email, we'll produce and ship the items according to your confirmation.