Leadleds 19cm Led Matrix Car Sign 12V Led Screen Full Color Display Your Custom Messages Sign Maker DIY Display Programmable
64x64 Dots Led Matrix Car Sign 12V Led Screen Full Color Display Your Custom Messages Sign Maker DIY Display Programmable
RGB LED Car Sign Supports You Upload Pictures From Your Album to Display, Adaptive image size, clear display text, animation, picture, calendar, dial, time, countdown, neon letter, graphic
To express yourself, a better way to show your personality, keep safe, keep Courtesy, Have a nice day!
* Multi-language supports
* Display vector diagram
* A Programmable neon sign shows 3D sign letters
* Auto ON/OFF, You set the time, and then the RGB screen will be turned on or turned off as per your setting
* Partitioning Feature
* Mirror feature Display your custom images from Leadleds Shenzhen Store with Shenzhen Technology, the WiFi RGB led display with Mirror feature, good looking in your rearview mirror.
Baby on Board, Smile, Slow, Turn Left, Turn Right, You can custom your message on the LED car sign
-100% Brand New P3 led panel and a high-quality guarantee. 195x195mm Car LED Display, capable of displaying your images
-Make your car more fashionable and express your meaning to the car that is following you.
-Mobile phone APP (compatibility with Android and iOS) to update messages, Easy to operate, connect, and send photos or type any text, and multiple languages are supported.
- It is easy to fix it on the car window with the vacuum cups.
-Include car cigar lighter power with 3.5 meters cable, support 9-12V.
-Over 20 Different moving modes (Left, Right, Hold, Twinkle, Up, Down, Flash, Static, etc.).
-Auto On/OFF
-Various font and background colors are available
-Support Multilingual in (Chinese/English/Russian/French/Spanish/Italian/Japanese/Korean/Arab/Thai/ India...) - Widely Application: You can use it For Sports Fans, For Fun, For Social, For Taxi Drivers, For Home Decor, For Business, etc.
The Led Display Panel Specification:
Display area size: 195 x195 x15mm (7.7 inches * 7.7-inch )
Frame Color: Black
Type: LED display screen DC9-12V 
Communication mode: WiFi via mobile phone fast program and sending your message
Installation mode: Suction cup
Usage: Indoor, Semi-outdoor
Display color: RGB Full-color
Frame material: Aluminum, stronger and lightweight
Voltage: DC9-12V 
Display pixel: 64 x 64 dots
What is in the package of the Led Sign:
1x WiFi Car Message Sign
2x Vacuum Suction Cup
1x Manual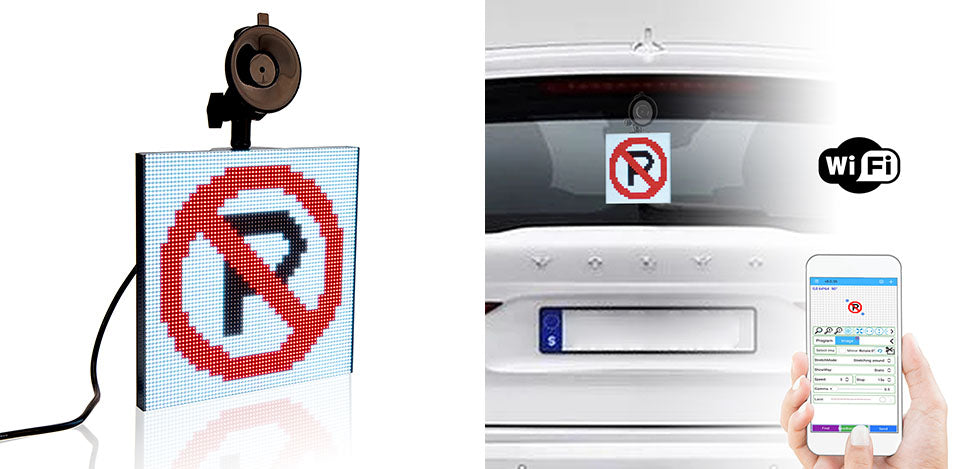 How can I get free shipping?
For small items such as some of led bulbs, led lights, we offer free shipping. If big items, free shipping is available if you order qualify quantity, please refer the checkout page.
When will my order be shipped?
Typically, within 1-3 business days can be shipped. Some customized items take a bit long within 5-7 business days can be shipped, for giant led screens, please refer to page notes.
Where will my order ship from?
Some items can be shipped from local warehouses in the United States and Europe, you can receive your orders quickly, some items will be shipped from the factory where in China. If the location has no stock, your order will be fulfilled by other warehouses automatically.
Do you ship internationally?
Yes, we do. Insert your full address at checkout and shipping rates will be applied to your order, the total amount includes product and shipping.
 
How long will it take for my order to arrive?
We offer post delivery, express, air or by sea.
By post delivery time is within 1 to 2 weeks, many times even less. For remote places, the shipping time will be longer, you can track the shipment on the courier official site.
For giant led billboards, the default delivery is by express service 3-10 days delivery, the exact delivery date according to tracking information of express company.
If you like by sea to transportation, you can communicate with us before you place the order.


What shipping carriers do you use?
For smaller parcels we use postal service or express delivery depends on which shipping way you choose. For larger packages will ship by express or by sea.

The cooperative transportation companies are:
USPS, La Poste, Bpost, Singapore Post, Russian Post, etc 
FedEx, DHL, UPS, TNT, SF express, etc
MSK, COSCO, EMC, APL, HMM, etc.
How can I track my order?
Once we fulfilled your order, you will receive an email notification with a tracking number. You will be able to track it immediately.
 *Some LED signs are custom-made items, if we communicate by email, we'll produce and ship the items according to your confirmation.