Leadleds Led Sign Display Foldable Flexible Soft Led Panel Bluetooth App Programmable
Bluetooth App Control LED Sign,

Flexible

LED Car Signs

Programmable

LED Sign Custom Text Pattern Animation Scrolling LED Display for Car Store Party Bar Hotel Concert

Brand Name: Leadleds
Size: L 47.5 x H11.8CM (18.7 x 4.65inches)  or L37.2 x H9.2CM (L14.6" X H3.6")
Pixels: 16 x 64
Communicate: Bluetooth via your phone, Android 4.3 / IOS 7.0 or above
The Soft Led Screen working voltage: DC5V only, compatible with various mobile power sources, USB cable, power adapter, power bank, cigar lighter, and so on
Display Function: multi-language/image/animation/neon/numbers/currency symbols/emotion icons/mathematical symbols/arrow/question mark/space/punctuation/, etc. 
Model#
Brand
Size
Color
Display Capability
Communication Method
Working Voltage
Power Source
Installation Method
LLDP6-S1664RGBCR
Leadleds
18.7 x 4.65inches = 47.5 x 11.8CM
Full Color
multi-language/image/animation/neon/numbers/currency symbols/emotion icons/mathematical symbols/arrow/question mark/space/punctuation/, etc.
Bluetooth
DC5V 
USB
Stick
LLDP5-S1664RGBCR
14.6 x 3.6inches = 37.2 x 9.2CM
The Flexible Led Sign Features:
【Bright and colorful lights】The LED matrix uses 3528 RGB lamp beads. This high-quality LED matrix can not only emit high-intensity light but also has low power consumption, and the full-color effect will be brighter and more attractive.

【Flexible Circuit Board USB Plug Design】The LED matrix is thin and light and can be bent and folded at will, the usb plug design is more portable and has a wider range of applications

【Personalized Driving】Easily show people the advertising effect by using this scrolling LED sign. The patterns are clear, the display methods are versatile, the light beads are shiny, and more importantly, the LED signs with upgraded voltage technology of 5V USB, are extremely low-heat, touchable, and safe to use. and it is very friendly to electric cars. Show your personalized sign while driving.

【Custom Function】This LED sign can custom text, pattern, and animation. You can design your own exclusive sign according to your own creativity and ideas, and you can also change the display content according to the usage scene.

【Smart APP Control】The LED signs is controlled by a Bluetooth-connected app and support connecting multiple led display at the same time. The app built in a lot of interesting patterns and animations. The phone makes it easier for you to customize interesting patterns and texts, and the music mode makes you more passionate.

【Easy to Install】This LED car sign with a USB interface is very thin and light, and can be bent and folded at will. The surface is made of glue drop technology, which has reached IP65 waterproof level and can be directly glued to the car glass without suction cups, making the installation very convenient and easy to carry.

【Wide Range of Applications】The LED signs are available in English, Chinese, German, Spanish, Portuguese, Japanese, Korean, Russian, French, and Italian and are suitable for holiday parties, weddings, camping, bar, hotels, stores, and cars.

What is in the box:
1 X Led Display Sign for display your messages
1 X LED Display Controller
1 X Double-sided tape
1 X Car cigarette lighter
1 X User Guide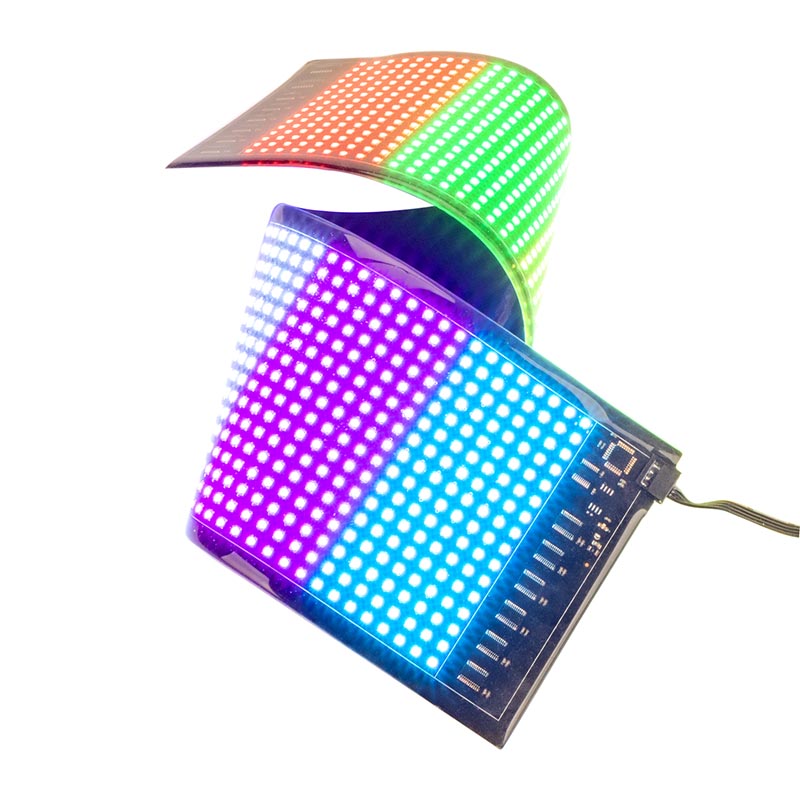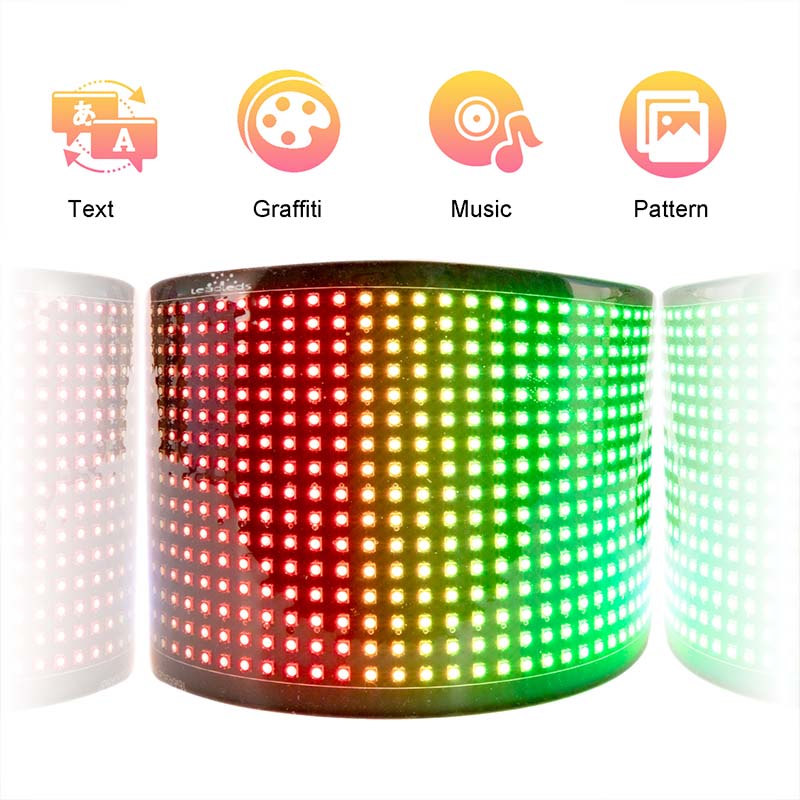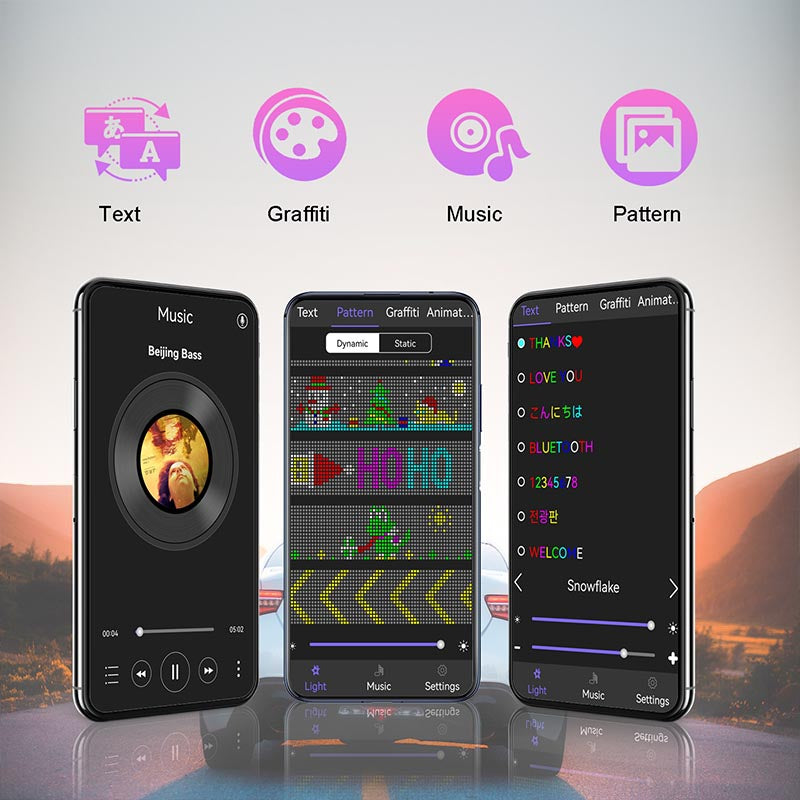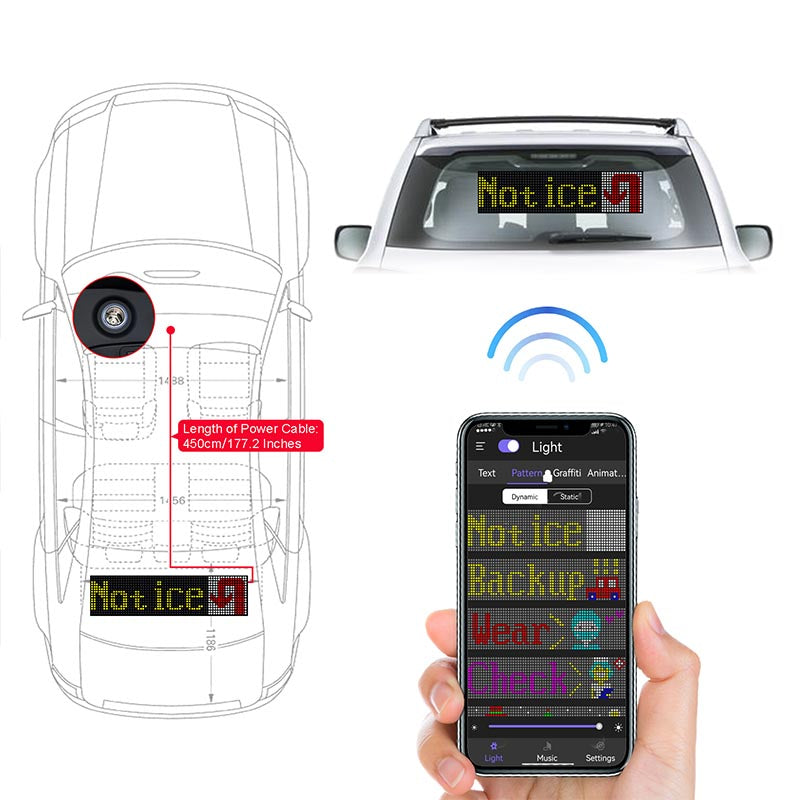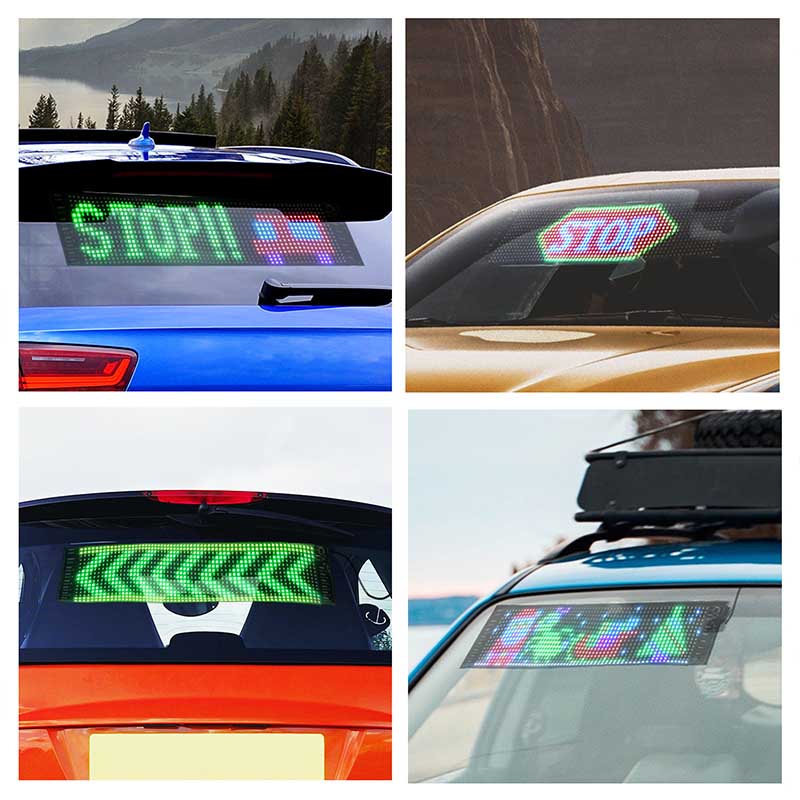 How can I get free shipping?
For small items such as some of led bulbs, led lights, we offer free shipping. If big items, free shipping is available if you order qualify quantity, please refer the checkout page.
When will my order be shipped?
Typically, within 1-3 business days can be shipped. Some customized items take a bit long within 5-7 business days can be shipped, for giant led screens, please refer to page notes.
Where will my order ship from?
Some items can be shipped from local warehouses in the United States and Europe, you can receive your orders quickly, some items will be shipped from the factory where in China. If the location has no stock, your order will be fulfilled by other warehouses automatically.
Do you ship internationally?
Yes, we do. Insert your full address at checkout and shipping rates will be applied to your order, the total amount includes product and shipping.
 
How long will it take for my order to arrive?
We offer post delivery, express, air or by sea.
By post delivery time is within 1 to 2 weeks, many times even less. For remote places, the shipping time will be longer, you can track the shipment on the courier official site.
For giant led billboards, the default delivery is by express service 3-10 days delivery, the exact delivery date according to tracking information of express company.
If you like by sea to transportation, you can communicate with us before you place the order.


What shipping carriers do you use?
For smaller parcels we use postal service or express delivery depends on which shipping way you choose. For larger packages will ship by express or by sea.

The cooperative transportation companies are:
USPS, La Poste, Bpost, Singapore Post, Russian Post, etc 
FedEx, DHL, UPS, TNT, SF express, etc
MSK, COSCO, EMC, APL, HMM, etc.
How can I track my order?
Once we fulfilled your order, you will receive an email notification with a tracking number. You will be able to track it immediately.
 *Some LED signs are custom-made items, if we communicate by email, we'll produce and ship the items according to your confirmation.