UNTSMART Wedding Gifts Personalized Custom Crystal Photo Frame for Birthday Anniversary Gifts
customers are viewing this product
Colored  Personalized Custom Crystal  Photo Album Picture Frame Best Gift for Mom Wife Birthday Wedding Anniversary Gifts
Shape 1: Round crystal with diamond pattern on the border
Shape 2: Heart-shaped crystal
Type: Photo Frame
Is it customized: Yes
Style: Personalized Photo
Crystal Gift: For friends families present
Keep Your Memory Forever:
We can make your pic in the sparkling crystal and keep precious moment forever.You just need to upload the photo and text, then add to cart, then wait the beautiful thing happen.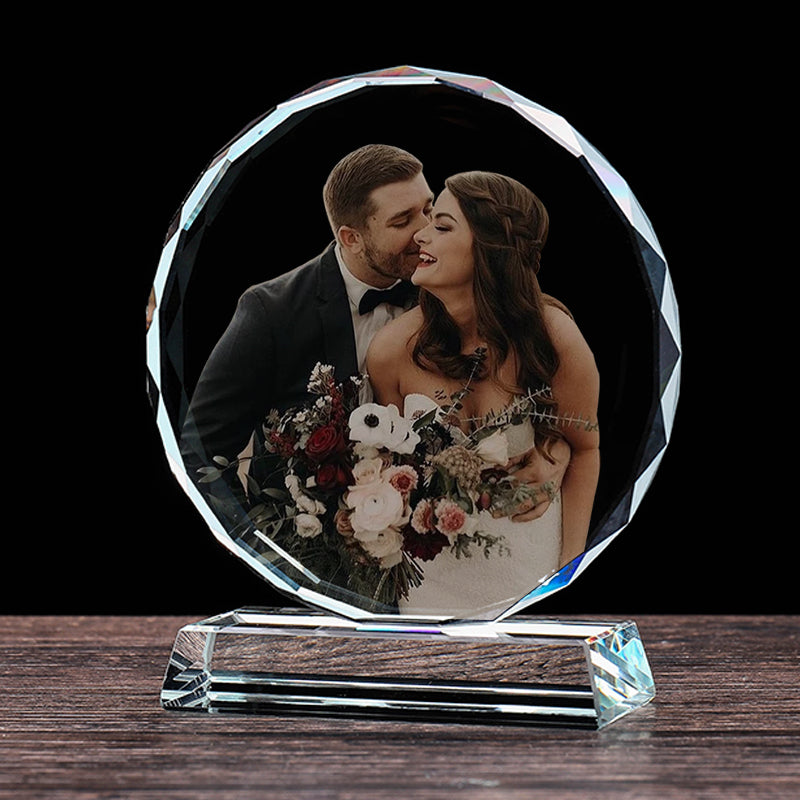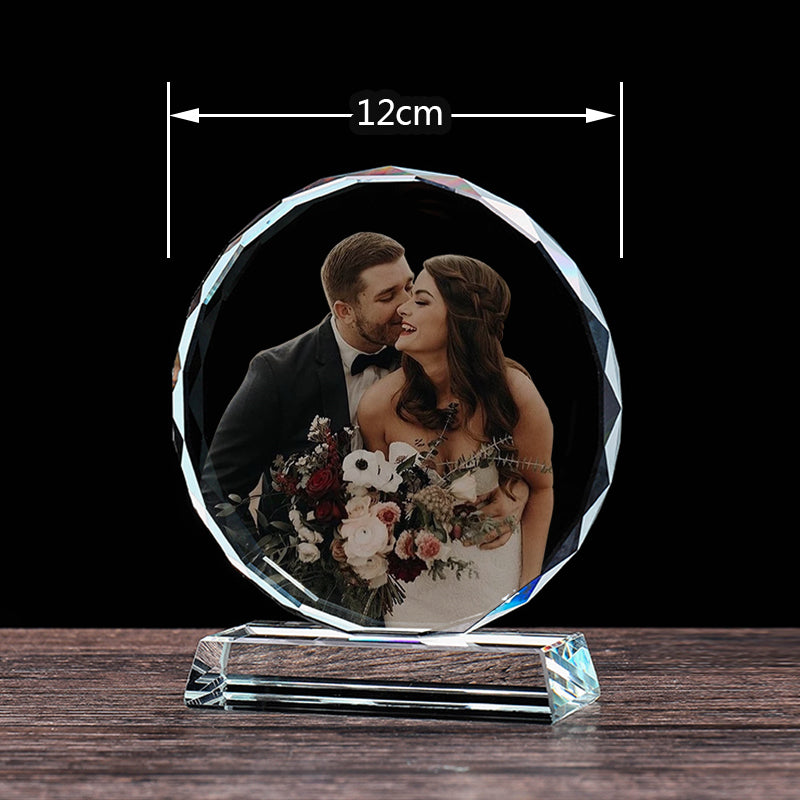 Round crystal diameter: 12cm (4.7in ), Thickness: 1.5cm (0.6in)
Base size: 9x3.7cm (3.55 x 1.5in), Thickness: 1.5cm (0.6in)

Heart Shaped crystal:12cm (4.7in ), Thickness: 2cm (0.79in)
Base size: 8x3cm (3.15 x 1.18in), Thickness: 2cm (0.8in)

Material: K9 crsytal,
Photo style: Color picture
Crystal weight: 500g (1.1LBs)
Package: 1 custom crystal photo frame + gift box
Kindly note: 

This is a customized crystal album, so please do not forget to send your photo to us. We will customized photo as your sent, keep your wonderful memory, if your don't like background, please sent me photo not background if possible, thank you. 
How to custom your own pictures: 
1. Please sending your photo to the email: leadleds@untsmart.com
2.The image quality need to be very good to see the details very clearly. This will directly influence the final quality of crystal image.
3.The image data is best to be more than 1MB and 3000x3000px.
4.The best image need to show the whole body include the head and shoulder, then it will make image look more three-dimensional.
Any questions about order, please don't hesitate to telling us by message or email.
SHIPPING
How can I get free shipping?
For small items such as some of led bulbs, led lights, we offer free shipping. If big items, free shipping is available if you order qualify quantity, please refer the checkout page.
When will my order be shipped?
Typically, within 1-3 business days can be shipped. Some custom items take a bit long within 5-7 business days can be shipped.
Where will my order ship from?
Some items can be shipped from local warehouses in United States and Europe, you can receive your orders quickly, some items will be shipped from factory where in China.
Do you ship internationally?
Yes we do. Insert your full address at checkout and international shipping rates will be applied to your order. We offer most items are free shipping.
How long will it take for my order to arrive?
Within 1 to 2 weeks. Many times even less. By express expedited service is available.
What shipping carriers do you use?
For smaller packages we will use Postal Service. For larger packages we use express like FedEx/TNT/DHL fast delivery to your doorsteps.
How can I track my order?
Once we fulfilled your order, you will receive an email notification with a tracking number. You will be able to track it immediately.